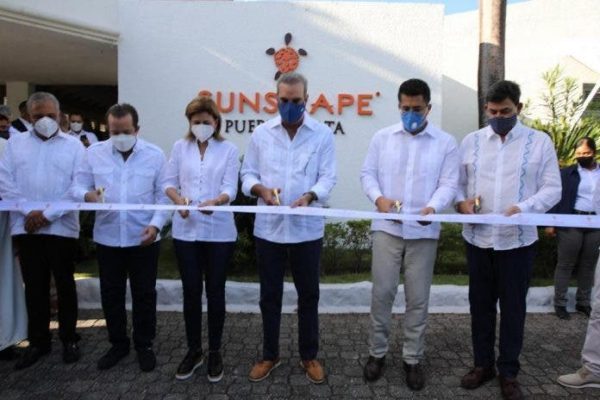 President Luis Abinader was in Puerto Plata on Saturday and Sunday, 10-11 October 2020. He is giving priority to promoting Puerto Plata's tourism destinations for both domestic and international travelers. He met with tourism sector leaders. "It is Puerto Plata's turn for development," said Abinader, promising support to the destinations of Puerto Plata, Sosua and Cabarete, working with the business community.
During his visit, he announced improvements in the access to the beaches. The government has allotted RD$48 million for the renovation of the Puerto Plata city market, to convert it into a city attraction. He promised to complete the restoration works of the historic city center.
Abinader has already announced the government is seeking that a public- private partnership invest in a shorter route from Santiago to Puerto Plata to bring the travel time from the capital city to Puerto Plata to only two hours.
During his visit, he also toured the construction site for the new city cruise ship terminal, the Taino Bay. The terminal is scheduled to be completed in time to receive a first cruise ship in April 2021. The port also has an area for cargo and another for local commercial fishermen.
President Abinader attended the reopening of the Puerto Plata Sunscape Hotel and had lunch with city business people at the Emotions Hotel, both in Playa Dorada.
Vice President Raquel Peña accompanied the President, also Tourism Minister David Collado and Deputy Tourism Minister Igor Rodríguez. Jose Natalio Redondo, president of the Association of Hotels & Restaurants of the North Zone, and many business people, represented Puerto Plata's tourism community.
On Sunday, Abinader announced measures to reduce crime and improve safety in Puerto Plata. These include the construction of the three security towers by the Ministry of Tourism. Agreements with the National Drug Control Agency (DNCD) were announced and renewed efforts to combat prostitution. Likewise, EdeNorte, the government power utility, is empowered to light up the Cabarete-Puerto Plata highway that links several beaches near to Puerto Plata city and its two cruise terminals.
Abinader held several business meetings. On Sunday, lunch was at Amber Cove in Maimón, Puerto Plata, the country's largest cruise ship terminal that has not been receiving ships since the lockdown began in March 2020.
Over the weekend, President Abinader was present to start the reforestation plan using plants from the Plan Sierra nurseries in Guajaca, San Jose de las Matas.
Read more in Spanish:
Diario Libre

El Caribe

Hoy

El Dia

El Dia

N Digital

El Nuevo Diario
El Dia

12 October 2020