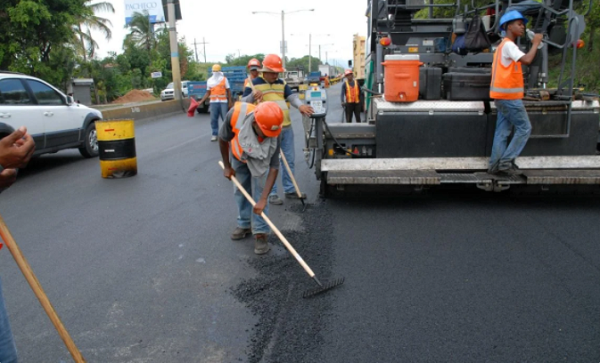 The Ministry of Public Works announced the rescinding of asphalt contracts with dozens of suppliers. In a press conference at the Presidential Palace on Tuesday, 13 October 2020, legal advisor to the President Antoliano Peralta; the director of the Procurement Agency Carlos Pimentel, and deputy minister of Public Works Roberto Herrera explained a review of the contracts showed these were rife with irregularities.
Carlos Pimentel, the Procurement Agency director, said that the contracts were unfair, illegal and harmful to the collective interests. The contracts with dozens of companies were found to violate Procurement Law 340-06. He said the government will be contracting for paving roads with principles of transparency, equity and competitivity. Tenders will be held. "All suppliers will have the opportunity to participate. We are opening up a competition for government asphalt purchases. He said the canceled vendors' modus operandi placed one addendum on top of another to keep their contracts open.
When asked if the canceled contractors would be submitted to justice, Pimentel said that his responsibility is to discontinue the contracting. He said it is up to other government instances whether to press penal charges and accusations against the contractors.
The Attorney General is also reviewing the case of RD$11.5 billion in asphalt contracts signed by former Minister of Public Works Gonzalo Castillo. Castillo was the former ruling Dominican Liberation Party (PLD) presidential candidate in the 5 July 2020 presidential election.
Follow the story in Spanish:
N Digital

Noticias SIN

14 October 2020