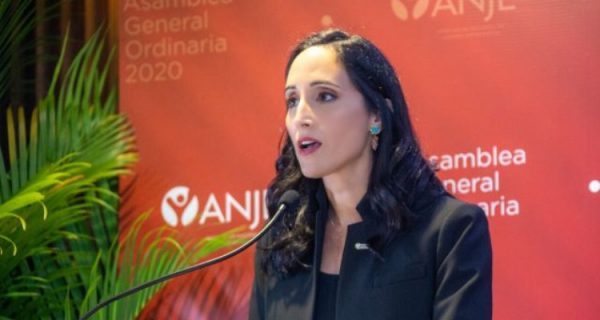 Susana Martínez Nadal was voted to preside the National Young Entrepreneurs Association (ANJE) from October 2020 to October 2021. She is the managing partner in Blue Compass Consulting, a firm specializing in public affairs, intelligence and communication. She is a contributing analyst in economic and political intelligence to The Economist Intelligence Unit (EIU). She has a BA in Political Economy and Political Science from Tulane University, with a MSc in City Investment Management from the University of London.
In her acceptance speech on 13 October 2020, Martinez said that great changes in history have come in times of great difficulties. She said the country is at a turning point with the opportunity to reinvent itself. "Let's rebuild a resilient and modern country, with sustainable and inclusive growth," she said.
She spoke on how in the past six months, the effect of decades of failing at resolving fundamental problems has become even more apparent. She mentioned the wasteful public spending, the weaknesses of the electricity sector, education and health systems and the high incidence of informality. And she spoke of the lack of transparency in public management. "We missed out on the good times when the winds were blowing in our favor," she said.
She called for having a long-term vision for country development and for identifying the structural flaws and developing plans for changes in a programmed and timely manner.
Martinez Nadal urged for the modernizing of the Labor Code. She said new realities such as teleworking and more flexible working conditions need to be incorporated. She said the Covid-19 health crisis highlights the importance of digital transformation.
She backed efforts to draft the Electricity Pact that would reduce losses of the utilities. She also called for the start of discussions for the Fiscal Pact, understanding this as a comprehensive review of the tax code and an in-depth review of public spending. "We all have to tighten our belts," she said. She said the comprehensive tax reform should include rules on government spending, the fiscal debt and the public debt. President Luis Abinader has convened the Economic and Social Council, entrusted by Law END 1-12 with the pacts' drafting.
ANJE informed that the elected board of directors, which starts its term on October 20, 2020, is composed of Susana Martínez Nadal, president; Luis Manuel Pellerano, first vice-president; Christian Cabral second vice president; Jaime Senior, treasurer; José Nelton González, vice-treasurer; Amalia Vega, secretary; Estefany Marte, vice-secretary; Yasser Mármol, member; Leritza Monsanto, member; Gisselle Valera, member; and Radhamés Martínez Álvarez, past president.
Read more in Spanish:
ANJE

El Nuevo Diario
13 October 2020