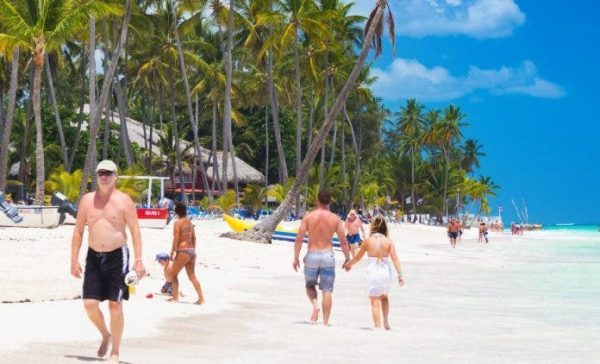 Dominicans who caught abroad when airports shut down in March 2020 made it back by the thousands in August. But by September, the numbers had declined somewhat. Foreign tourists are gradually returning, understandable in these difficult Covid-19 times. Central Bank tourism report numbers show the foreigners have begun to return, but slowly.
In its January-September 2020 tourism overview, the Central Bank statistics division reveals that travel this year is down 65% compared to 2019. Arrivals of non-resident visitors reached 1,743,480 compared to 3,244,218 for the same first three quarters of the year in 2019. Non-resident Dominican visitors is down 48.4%. These were only 402,953 arrivals for the first nine months of the year.
The Dominican Republic is open to tourism since 1 July 2020 when international airports resumed operations, and the government instated a travel insurance plan to cover trip changes and hospitalization or extended stays for any tourist falling ill with the virus in the Dominican Republic. In the country, the authorities say the virus is under control, and the positivity rate has been steadily declining.
Nevertheless, the same is not the same in most countries where tourists traditionally come from. The pandemic is still spreading in the United States, Brazil, Spain, Russia, France, Italy, Argentina, Colombia, all major source markets for Dominican resorts.
September traditionally is a slow month for the local tourism industry. But this year, Covid-19 has ensured it be the slowest as it could be. The Central Bank reports that the total influx of non-resident visitors was 103,942 people (57,065 Dominicans and 46,877 foreigners). Most of the travelers came from the United States. Non-resident arrivals are 68% less than those who came in September 2019. It is explained by the 81.3% decline in arrivals of non-resident foreigners (203,977 people) and to a lesser extent by the 15,743 less non-resident Dominicans (21.6%) who flew into the country in September.
The Central Bank sees there is a slight increase in arrivals. It indicates that foreigners were 18.7% of arrivals, compared to 11.5% and 12.6% in July and August 2020.
The Central Bank says that factoring in Dominican nationals traveling in January to September was 1,943,491 passengers for a decline of almost 65% compared to the previous year. The total is 3,559,634 passengers less than those who flew into Dominican airports for the same period in 2019.
Of the total arrivals, 62% were from the United States, Canada and Mexico, 24% from Europe, 10.4% from South America, 3.1% from Central America and the Caribbean. Interestingly, the number of arrivals from Finland was up. Some 1,848 Finnish tourists visited. Countries experiencing major declines in travelers to the Dominican Republic were United States (-1,350,540), Canada (-338,659), Argentina (-108,435), Germany (-104,670) and France (-103,480).
By airport of arrival, the stats show 778,810 passengers came by way of Punta Cana International. Another 261,007 arrived to Santo Domingo's Las Americas International; 132,866 to Puerto Plata's international airport; and 59,325 to the La Romana International. 75,510 flew into Cibao International in Santiago; 25,503 to El Catey in Samana and 7,506 to La Isabela, in northern Santo Domingo. Take note that Dominican airports had operated normally in January, February and until 17 March 2020.
Meanwhile, the Civil Aviation Board (JAC) president, Jose E. Marte Piantini is optimistic the Dominican Republic will retake its leadership as a tourist destination in the Caribbean. He forecast an increase in travelers of 50,000 to 60,000 more people, for travel in October to reach around 317,000 air arrivals on commercial flights up from 264,229 in September 2020.
He said that health and security measures implemented jointly by the Dominican state and the airport operators contribute to the recovery.
"We approved 281 operations, of which 35 are repeat operations and 246 are new, so it is clear that both airlines and tourists have regained confidence in the Dominican Republic as a destination, after the health and security measures implemented by the government of Luis Abinader," he said.
He added that countries such as Mexico, Panama, Uruguay, Argentina, Peru, El Salvador, Colombia and others, only this month had authorized flights to restart. As countries reopen, the DR stands to benefit as before the pandemic, it was served by the most airlines in the Caribbean and Central America.
Among the new flights, JAC approved a new JetBlue route: Newark/PuntaCana/Newark to begin operations on 19 November with four flights a week. The plan is for the flight to be daily as of January 2021.
And, Frank Rainieri, owner of the Punta Cana International Airport that had handled the largest number of airlines for the Caribbean and Central America before the pandemic, reports that only one passenger has tested positive for Covid-19 in the more than 6,000 aleatory tests carried out at the Punta Cana airport. He says that the virus is manageable and the resorts, transporters and other suppliers are following health protocols because everyone understands their livelihood is at stake.
Read more in Spanish:
16 October 2020
Read more in Spanish:
Central Bank
Super7Fm
16 October 2020