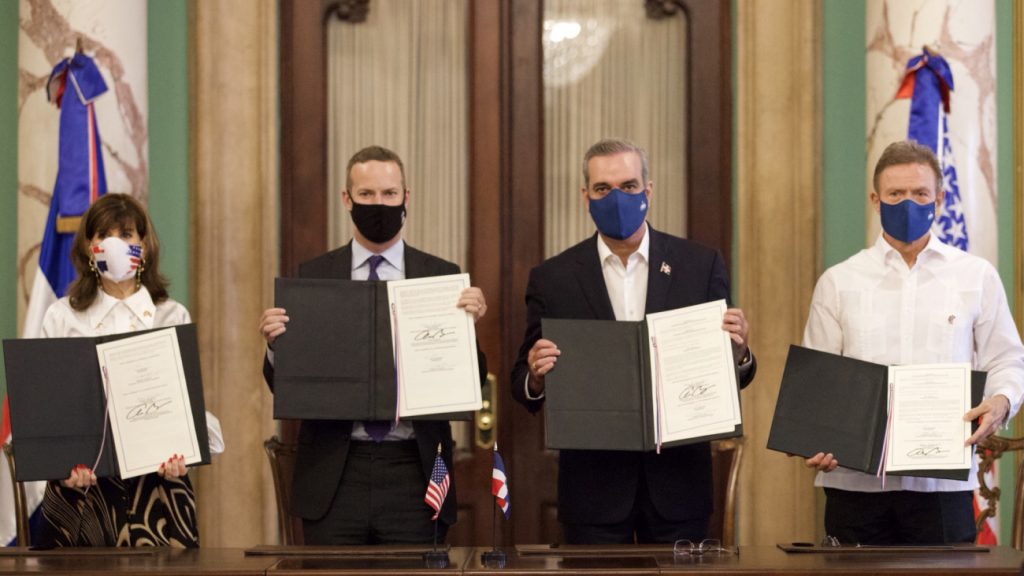 US International Development Finance Corporation (DFC) chief executive officer Adam Boehler and President Luis Abinader signed a memorandum of understanding (MOU) between the US and the Dominican Republic to promote investment and bolster the local economy. The plan is to collaborate to mobilize investments in energy, tourism and other infrastructure projects that will strengthen key industries and create jobs. Also signing the MOU were Foreign Minister Roberto Alvarez and US Ambassador Robin Bernstein.
The US Embassy explains that the MOU advances the America Crece program, the US government initiative to promote growth throughout Latin America and the Caribbean by mobilizing energy and infrastructure investments.
"This agreement underscores the strong US commitment to the Dominican Republic and the essential role of investment in advancing our shared goals," said Boehler. "DFC is proud to support this agreement by offering our financing tools to help mobilize needed investment at a time when the Covid-19 pandemic has impacted tourism and other industries," reads the statement.
Under the agreement, the United States and the Dominican Republic will work to identify priority projects and the financing needed to move them forward. The agreement encourages innovation and sustainability by strengthening local regulatory frameworks. It will promote awareness within the US private sector of local development projects and explore ways to support these projects with financing, insurance, and technical assistance.
The two countries agree to collaborate to promote strong development outcomes from these projects, including women's economic empowerment as an important step to increase stability and prosperity in the Dominican Republic.
As America's development bank, DFC serves as a key partner in the America Crece initiative by mobilizing private investment. DFC currently has $15.6 million invested in the Dominican Republic in projects supporting microfinance lending to women and other underserved communities.
During the signing ceremony at the Presidential Palace, Foreign Minister Roberto Alvarez called the agreement a new milestone in bilateral relations between the two countries. "With this initiative, we gain access to capital that will allow us to promote the recovery and growth of tourism, develop energy projects and critical infrastructure for the country," he said.
Boelher told Dominican journalists that the funds would be available for the Manzanillo Port development and for lending to small businesses. In the interview with Dominican journalists at the US Embassy, he warned that Chinese investment comes at a high cost evidenced by previous experiences abroad.
Boehler is the first director of International Development Finance Corporation (DFC). In his explanation to the US Senate that reviewed his nomination to the position in September 2019, Boehler said the DFC will be a critical tool in American foreign policy to address China's growing influence and that of other authoritarian governments. He said the DFC will strive to bring to partners in the region American values—transparency, rule of law, respect for people and the environment.
Read more:
Ministry of Foreign Relations
US Embassy
US Embassy
16 October 2020