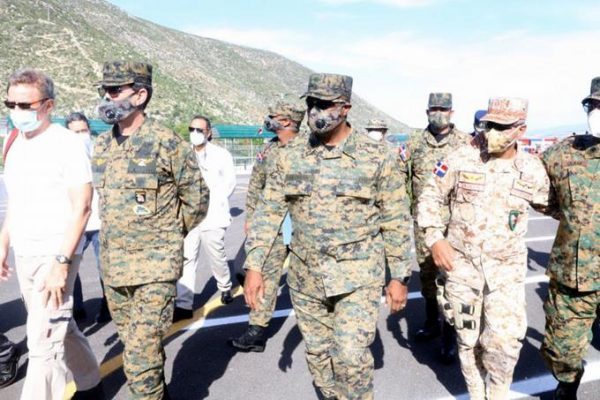 Freight truck traffic through the border crossing point at Dajabón was affected yesterday after Haitian authorities prevented the cargo trucks' regular passage.
As reported in Listin Diario, on Wednesday, 21 October 2020, there were several violent incidents at the border after the Haitian authorities disallowed the passage of trucks loaded with merchandise from the Dominican Republic to Haiti.
Foreign Relations Minister Roberto Alvarez and the chief of the Haitian cabinet, Jean Claude Barthelemy met with military and civilian authorities of both countries to resume talks on bilateral issues, as reported in Listin Diario. The officials discussed the need to control and improve customs agency collections' processes, preventing the smuggling of goods and the illicit trafficking in charcoal. Matters related to the border limits between both countries, established by the 1929 binational agreement, are also on the bilateral agenda.
As reported, agents of the Haitian National Police and inspectors from the Ouanaminthe City Hall stripped many Haitians of basic products that they had bought in Dominican territory, throwing them into the Masacre River. This action provoked confrontations between merchants, Haitian buyers and members of the Haitian Police and the Juana Méndez town hall.
The spokesperson for the Haitian merchants, Onery Aliba, said that many had borrowed money to buy items in the Dominican Republic, but that inspectors from the Ouanaminthe mayor's office seized them, destroyed them and threw them into the river. He said that Haitians need food and that the Dominican Republic is where they can buy it.
After the incidents occurred, troops from the Specialized Land Border Security Corps (Cesfront) and the Army were sent to reinforce border security.
The Haitian authorities are demanding that the agreements reached with their Dominican counterparts be met to guarantee a better functioning of the binational commercial exchange.
At the ministerial level, a joint commission made up of officials from both countries discussed the flooding of Azuei and Enriquillo lakes, that has caused the mobilization of neighboring communities in Haiti towards the southwestern region of the Dominican territory in recent years.
The meeting, which took place at the Military Unit for Coordinated Border Management in Jimaní, of the Ministry of Defense, addressed the need to enforce, as soon as possible and with the technical expertise of both countries, the limits already established by border terminals 240, 241 and 242 (submerged in water), which determine the territorial division and sovereignty of each country.
President Luis Abinader has just named a new Dominican ambassador to Haiti, Faruk Miguel, a 70-year old economist, known for his close ties to former President Hipólito Mejía.
Read more in Spanish:
Listin Diario
22 October 2020