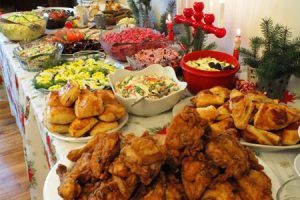 Minister of Public Health suggests Christmas Eve lunch rather than dinner. Public Health Minister Plutarco Arias has proposed declaring Christmas Eve a holiday so that Dominicans can gather for a Christmas lunch instead of the traditional evening dinner. While Christmas Day already is a holiday, Christmas Eve has always been a working day. This 2020, Christmas Eve falls on a Thursday (with a curfew at 9pm), and Christmas Day on a Friday, making for a long weekend.
President Luis Abinader has announced his agreement to the minister's Christmas Eve proposal.
The Covid-19 curfew restricts Dominicans from gathering on holidays after 7pm. Many people are advocating a relaxing of the curfew over the holidays. Others say that this will only lead to a spike in cases. Authorities have said they are not game to relaxing the restrictions.
Read more in Spanish:
N Digital
El Dia
El Nuevo Diario
15 November 2020