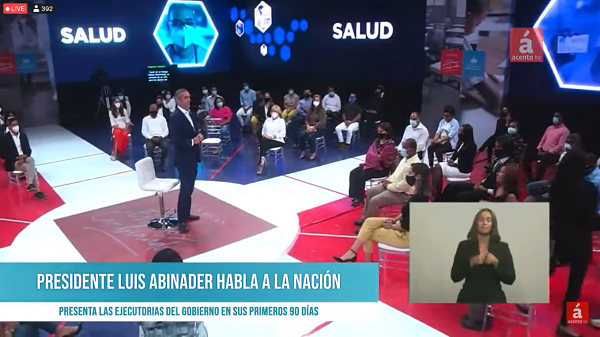 President Luis Abinader held a televised dialogue last night to share insights into how he is delivering on his promise for change in the country. He stressed: "The top priority of the government is to create jobs." He answered questions posed by citizens on health, economic, justice, education, social and the tourism industry issues for one hour.
He said that the Covid-19 virus "is under control." He said the government is funding the definite completion of the three main regional public hospitals – Cabral y Baez in Santiago, Antonio Musa in San Pedro de Macoris and the San Vicente de Paul in San Francisco de Macoris. He stressed the importance of bringing universal health coverage to Dominicans. Already 1.7 million poor Dominicans have been added to the government Senasa plan.
Among the explanations, Abinader said that the government is directing 70% of capital investments to the provinces that contribute the most in taxes. This means Santiago will be getting more funds from the government. Among the new projects, he said a Navarette ring road is planned. The express road is contemplated to facilitate road traffic to the renovated Manzanillo Port, another major initiative of the Abinader administration.
He explained that while the original intention was to go digital for public education in 2020-2021, this has not been possible. He said telecoms said they had smartphone coverage, not so the bandwidth that digital learning requires. The government had proposed to supply students with computers and tablets. Yet, the worldwide demand for the devices created a procurement problem. The solution: focus on TV learning programs. The President called it not the best solution, but the best possible solution.
Regarding social plans, Abinader said the government is reviewing the launching of a new version of the "Stay in Home" plan next year. He said Pro Solidaridad agency is studying a project to help fund moms to stay home helping their children with learning at home programs.
He is optimistic that tourism will recover earlier than later. He said reservations are 50% for occupancy in Punta Cana for January 2021. Meanwhile, hotels are seeing exceptional occupancies on weekends due to domestic travel. He said the curfew is kept because the government is concerned there could be a spike such as in Spain and France that would affect the efforts to normalize the tourism industry.
Follow the story in Spanish:
Presidency
17 November 2020