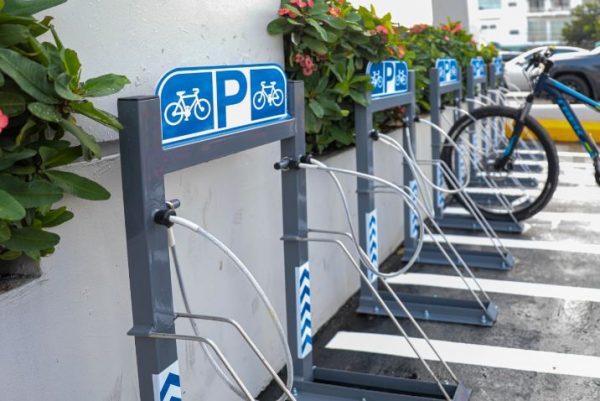 Traffic jams in the city make getting around by bicycle faster than going by car, especially at peak hours. The Banco Popular continues to lead in making it easier to be a bicycle rider in Santo Domingo. The bank continues to add bike parking areas to encourage people to use their bikes.
This past week, the Banco Popular inaugurated a new bicycle parking area at its Núñez de Cáceres branch with free parking for 10 bikes. This brings to three the BPD bank branches that have dedicated bicycle parking areas. The other two are at the Torre Popular (Av. John F. Kennedy) and Avenida Bolivar. Overall, it's only for 32 bicycles, but it is a step in the right direction.
A press release from the bank points out that the parking facilities at the Torre Popular and Núñez de Cáceres also serve as interconnection points with the Santo Domingo Metro. Furthermore, the bicycle parking lot at the Bolívar branch is connected to the Avenida Bolivar bicycle lane.
The bank is promoting its "Hazte Eco", bank loans to purchase bicycles and other sustainable mobility vehicles, including hybrid and electric cars at preferential rates. The BPD is installing chargers for these hybrid and electric vehicles at offices nationwide in alliance with InterEnergy Group.
Read more in Spanish:
El Caribe
16 November 2020