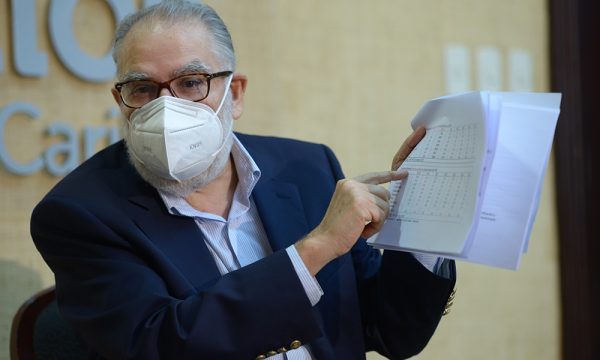 Economy Minister Miguel Ceara Hatton is optimistic the economy will grow in 2021. In an interview with the El Caribe media group, Ceara Hatton says the International Monetary Fund (IMF) says the Dominican economy will show a deficit of 4.6% in 2020, but will grow 4% in 2021. Nevertheless, he points out that the country needs to watch the performance of the United States, European and Latin American economies closely. The outlook is for a GDP drop of 16.7% in the US for this year.
"We hope that next year there will be a revival in the world, that together with the policies we are implementing in the country, internally, we can take advantage of the global rebound much better. That would imply job creation, foreign currency generation and investment in the whole country, but above all, and most importantly, job creation to improve people's quality of life," said Ceara Hatton during the luncheon at the media.
Ceara Hatton says the world debtors will be flexible. "Gentlemen, this is a global crisis, not a country crisis. A solution is not possible in one country; it is impossible. There has to be a reordering, as there has been at other times worldwide," he remarked. The previous Medina administration doubled the national debt in eight years. The Abinader government is taking on debt to deal with the economic recovery and the Covid-19 health crisis.
Ceara Hatton calculates that if the balance achieved so far between disease management and economic openness is maintained, the negative impact can always be less. "If that is achieved, we can have an adjustment, but we can't open everything up at once. There has to be a balance between flexibility and control of the disease," he said.
Miguel Ceara Hatton is an economist by profession, professor at the Pontificia Universidad Católica Madre y Maestra (PUCMM) and researcher at the Centro de Estudios Económicos y Sociales José Luis Alemán. His areas of professional interest have mainly been macroeconomics, economic development, economic theory, public policy, and international economics and politics.
Between 1996 and 2001 he was director of Trade, Tourism and Cooperation of the Association of Caribbean States (ACS).
From September 2003 to June 2011 he was the National Coordinator of the United Nations Development Programme (UNDP) Office of Human Development.
Read more in Spanish:
El Caribe

19 November 2020