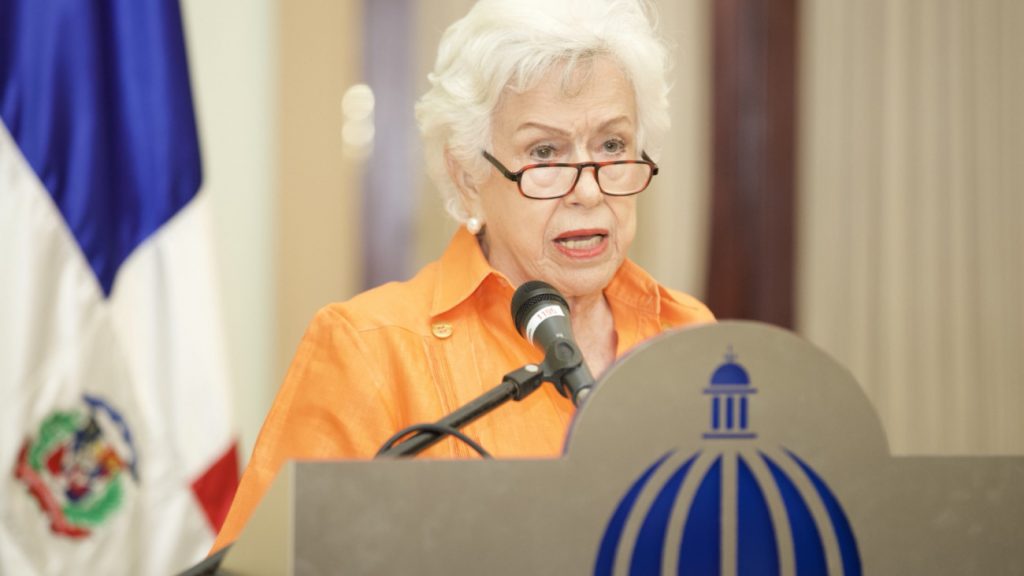 The director of Ethics and Government Integrity of the Abinader administration, former Vice President Milagros Ortiz Bosch announced comprehensive amendments to laws and regulations governing the General Controller Office and Procurement Agency. The new initiatives fall under the newly created Transparency, Prevention and Control of Public Expenditure Cabinet, created by Decree 695-20.
When making the announcements during an event at the Presidential Palace, Ortiz Bosch was accompanied by Antoliano Peralta Romero, the Legal Advisor to the President, and Carlos Pimentel, the director of the Procurement Agency.
The Transparency Cabinet seeks to accelerate government procurement procedures, to ensure payment to the state's suppliers and, above all, to serve the people in a timely manner.
Ortiz Bosch said the entire legal framework of the General Controller Office and the Chamber of Accounts are being revised. The team entrusted with the drafting of the amendments are Patricia Santana Nina, Eric Raful, Julio Garcia and Jorge Luis Polanco.
The Ethics and Integrity Office director says two high level officials are to be appointed for new Controller General units dedicated to investigation and anti-fraud and special internal audits. These divisions will focus on public payroll and government procurement.
Regarding the Public Procurement and Contracting Law's reform, she said that lawyers Carlos Pimentel, Cristian Martínez and Mercedes Eusebio are already working on the amendments.
The director of Ethics added that these legislative modifications are in addition to actions aimed at internal control and announced the Regulatory Compliance Program in Public Contracting in the Dominican Republic, in full compliance with national and international legal standards.
She emphasized that the program will be implemented in each government entity's purchasing and contracting units to guarantee the management of risks of legal non-compliance and prevention of administrative irregularities.
She said that the the Procurement Agency (DGCP) is to appoint a regulatory compliance officer in each public entity, to ensure excellence and transparency in procurement and guarantee compliance with the principles established in Law 340-06 and its regulations.
Ortiz Bosch also said that Presidency is advancing on the regulations for the implementation of the Public Wages Law.
Likewise, she said amendments will be submitted to regulate government advertising and to the Free Access to Public Information Law. She said that a commission formed by José Luis Taveras, Noel Sued and Carlos Pimentel is participating in the drafting of the advertising and propaganda amendments. Berenice Barinas, Carolina Santana, Mayra Cabral and Fabricio Collado are helping with the amendments to the Free Access to Public Information Law.
Ortiz Bosch said a commission is also working on drafting amendments to the country's Penal Code. The team working on this initiative includes the specialists Pedro Balbuena, Félix Tena and Jorge López.
Read more in Spanish:
Presidency

7 January 2021