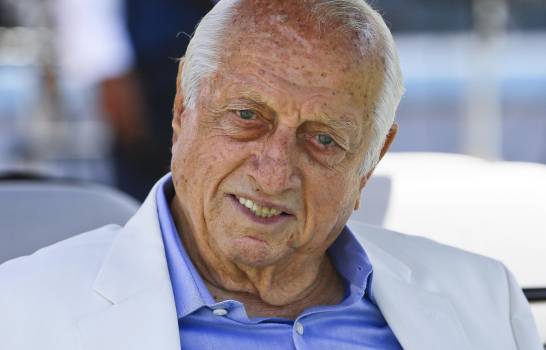 Tommy Lasorda, the man who said that he would bleed Dodger blue if he was ever cut open, died at his home late last week at 93 years of age. A first-round Hall of Fame pick, Lasorda is very well remembered by Dominican baseball fans. He managed here three years, and really and truly everyone knew him. He was the manager of the Leones de Escogido back in 1970-1971, and then he spent two years with the Tigres del Licey, 1972-1973, and 1973-1974. He won the championship each of those two years, and in 1974 he took Licey to the title in the Caribbean World Series.
Diario Libre recalls that Lasorda defended his team to the utmost. His most infamous encounter with the umpires happened in Santiago in one of those classic games between the Aguilas and the Tigres. Lasorda took issue with a call by the chief umpire and in the very heated discussion, he threw his baseball cap at him. He was immediately ejected from the game. But that was just the beginning! Lasorda took off his shirt and threw that at the umpire. Then he took off his shoes and threw them at the umpire. Finally, he began to take off his undershirt, and that was when the Police stepped in and arrested him for "offensive conduct in public" or something of that nature. He paid the fines for himself and a couple of teammates, spent more than a few hours in custody, but was eventually released.
Wherever Tommy Lasorda went he was special. He is also remembered for his recommendations of how to eats lots by eating slow. He was a regular eating Dominican cooking at the then popular Lucky Seven restaurant in Gazcue.
Read more in Spanish:
Diario Libre
10 January 2021