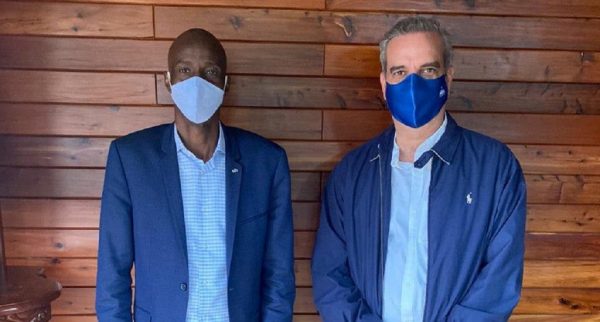 President Luis Abinader met with Haitian President Jovenel Moise in Elías Piña, a province on the border with Haiti. As reported by the Presidency, the meeting was informal yet the two leaders were able to talk extensively about bilateral issues. Abinader himself reported on the meeting and noted that a joint declaration of the agreements reached would be forthcoming
Topics discussed included border security, migration control, trade, health and institutional cooperation.
Last week, President Moise had announced that elections would be held in September 2021 in Haiti and that the country is going through a process of constitutional reform.
The Presidency had reported President Abinader visited the Intelligence Post of Coordinated Management of the Border in the community, El Carrizal, municipality of Comendador in Elías Piña. Elías Piña is the only Dominican province to have less than 500 cases of confirmed PCR tests. The total for the province is 273 cases.
President Abinader arrived by helicopter and inspected the border management unit and the border fences that divide the DR and Haiti. Defense Minister, Lieutenant General Carlos Luciano Díaz Morfa and the Secretary of the President's Cabinet, Eylin Beltrán accompanied the President.
In El Carrizal , Abinader was received by the director of Plans and Training -J3, General Guerrero Clase, the director of the Specialized Body of Border Security, General Duran Infante, and other commanders of Battalions, Companies, Detachments and Posts of the border zone between the Dominican Republic and Haiti.
President Abinader has announced that the salaries of the military will soon be increased and their health insurance will be improved. The government did so for the Police force early this month.
Read more in Spanish:
Presidency
El Dia
11 January 2021