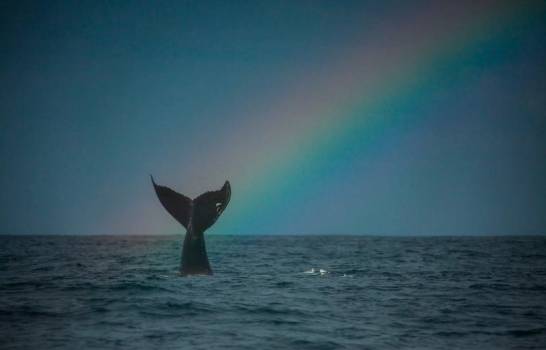 The official whale-watching period began on Friday, 15 January 2021 in the Dominican Republic. The season extends until the end of March. The unique, and visceral, close-up observation of the humpback whale is one of the most important events of the tourist season. It is a north coast attraction that not many people really know about and there are very few places in the world where these huge creatures can be observed up close.
Between 1,500 and 2,000 humpback whales travel from their feeding grounds in the North Atlantic to the warm waters around the Dominican Republic every year. The whales come here for two reasons. To mate and to give birth.
Samaná, the northeastern peninsula, is the center of most whale-watching excursions. This is where the show is really great. While it Is possible for the occasional sailor off the coast around Rio San Juan to come across one of the behemoths, in Samaná a person can sit on a balcony, or in a restaurant or bar and watch the whales cavorting in the bay. Or board a whale-watching excursion with new health protocols.
The Dominican government has developed a long, 15-point list of rules for whale watching. In 2020 over 60,000 persons visited Samaná to watch the whales.
Making it easier to get to Samaná city to take an excursion, Minister of Public Works Deligne Ascención announced the government will build a new boulevard connecting the Sánchez road entrance to Samaná, the capital of Samaná province, into an attractive boulevard. He said he expects the works to be ready by early 2022. The improvement of the entrance to the city had been announced on several times by former Minister of Tourism Francisco Javier García, but it never got underway.
Read more in Spanish:
Diario Libre

Listin Diario
17 January 2021