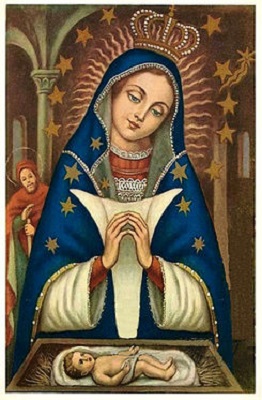 The Banco Popular Dominicano is sponsoring all-day celebrations in tribute to Our Lady of High Grace Day (Día de la Virgen de la Altagracia) on Thursday, 21 January 2021. The day is a religious holiday honoring the named protector of the Dominican people.
This year, a 24-hour celebration will be televised and streamed online. There will not be in-person participation of the general public at the Basilica Nuestra Señora de la Altagracia, the largest church in the Dominican Republic. The church is located in Higuey, capital of the province of La Altagracia, best known for its Punta Cana resorts district to the east.
Starting right after midnight on 21 January, a series of tributes will be televised from the Basilica. This is a production by Edilenia Tactuk, best known for major shows including the Casandra Awards. The performances can be followed on YouTube (@basilicadehiguey) and tte Banco Popular channel at @Popularenlinea.
The event, "For the Love of the Virgin, " is non-stop programming of prayers, songs, testimonies, and faith messages.
The live event seeks to unite Dominicans through prayer, allowing all believers to pray, sing, and receive the Virgin of Altagracia in their homes during an unprecedented night. The intention is that all Dominicans unite to ask for a new dawn for the Dominican Republic and the world.
The activities begin at midnight, with an opening mass led by Monsignor Antonio Camilo, Bishop Emeritus of La Vega, followed by a vigil led by Father Evaristo Areché, Rector of the Basilica of Higüey.
At different times in the morning, a group of bishops from different provinces of the country will deliver messages of hope and reflections on family, faith, solidarity, the difficulties of the pandemic, spirituality, uncertainty, and hope.
Viewers will also be able to follow the prayers in honor of the Virgin of La Altagracia from the Basilica, led by Fray José María.
With sunrise, the Dominican soprano Nathalie Peña-Comas will sing a Spanish version of the Ave María and, after that, Niní Cáffaro will interpret the well-known song "Por Amor" presented by its composer, Rafael Solano.
During the night, there will also be special performances by the National Symphony Orchestra, conducted by Maestro José Antonio Molina, as well as Catholic artists Celinés Díaz, Eduard Muñoz, Ester Hernández, Kairy Márquez, Mikey Mendoza, Alfareros, Jon Carlos, Claudia Gil, Manny Rosado and others.
The vigil will conclude around 8:00 in the morning, with the Day of La Altagracia's official mass, in charge of Monsignor Jesús Castro, bishop of the Diocese of Higüey.
See more details on the event at:
Banco Popular
20 January 2021