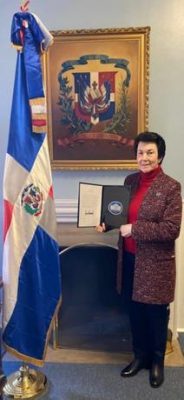 With hours before the end of his Presidency, then US President Donald Trump signed the accreditation papers for Dominican ambassador to the United States, Sonia Guzmán. Guzmán was named to the position from the start of the Abinader administration in August 2020.
There was no in person ceremony. She received a personal letter from the US President. Ambassador Guzmán delivered a note explaining the Dominican government aspires to promote trade and investment, regional cooperation in security and the rights of Dominican citizens and citizens of Dominican origin in the United States.
Guzmán had received the letter of accreditation from the US Department of State on 22 December 2020. She is the daughter of former President Antonio Guzmán (1978-1982). She is also a former Minister of Industry & Commerce and member of the Monetary Board.
Read more in Spanish:
Listin Diario
Diario Libre
20 January 2021