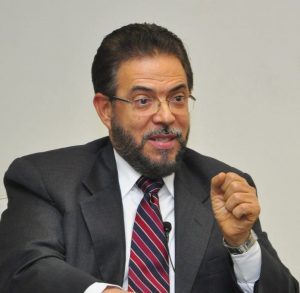 Alianza Pais political party president, Guillermo Moreno says that the exploitation of the gold mine by GoldQuest in San Juan de la Maguana would threaten the water production for human consumption and farming. He said the southwestern province already suffers from a scarcity of water and inefficient use. He says the gold deposit is located a few meters away from the Guama and San Juan rivers that feed the Sabaneta dam. He said the mining facility would seriously damage water production and bring more sediment to the dam, limiting its storage capacity. He alerted to the damage to the environment and quality of life of the inhabitants in the region.
Moreno says that the province of San Juan has two major dams. The Sabana Yegua Dam sends waters to the provinces of Azua, Barahona and Baoruco, and the Sabaneta Dam, that feeds the San Juan province itself.
Moreno explained that 2,880,000 tareas (1 tarea = 629 square meters) represent 14% of the farmland in the country. He said the valley produces 50% of the beans and 11% of the rice that is consumed in the country.
"It is necessary to repeat once again: The gold of San Juan is in its agriculture. Therefore, let us reject mining exploitation in San Juan and at the same time demand public policies and support for the agricultural production of San Juan and the entire region," summed up Moreno.
Read more in Spanish:
El Caribe
10 February 2021