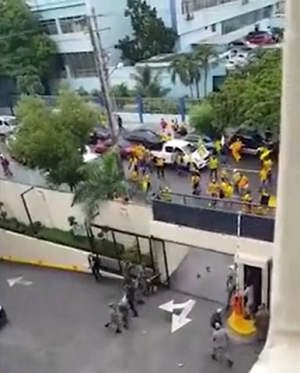 Legislator Pedro Botello challenges those who accuse him of inciting a violent mob to prove this. The Social Christian Reformist Party (PRSC) deputy has forcibly campaigned for a change in legislation to allow that pension plan affiliates can cash in 30% of their savings before these are due. The Chamber of Deputies had approved a bill to this end. Not so the Senate. A report from the Senate accuses him of inciting the mob that attacked the Congress on 4 February, especially Senate offices.
On another previous occasion, Botello had championed mobs that stormed Congress, causing physical damages to vehicles parked outside. Last week, aggressors again threw rocks at the windows of senators who have not supported his campaign.
Botello now threatens to bring a large mob to the National Congress to inconvenience the rendering of accounts by President Luis Abinader on 27 February 2021. A spokesman for the ruling Modern Revolutionary Party (PRM) Julio Fulcar says vandalism will not be allowed on 27 February.
Read more in Spanish:
Listin Diario

N Digital

El Caribe

Acento

El Caribe

Listin Diario

Diario Libre
10 February 2021