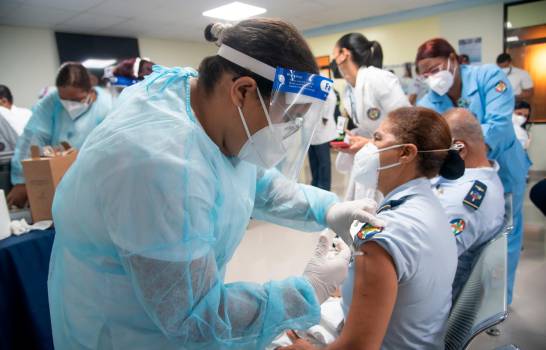 The Dominican government began on 16 February the first phase of the National Vaccination Plan (#VacunateRD). The objective is to vaccinate 7.8 million Dominican citizens this year of ages 18+.
The first being vaccinated in the Dominican Republic is the frontline staff who works in Covid-19-designated medical centers, from medical staff to cleaning crew. These number around 12,000. The government began vaccinating at the Ramón de Lara Air Force Base hospital, where the first patients were treated in March 2020. Those inoculated are scheduled to receive a second dose at the hospital on 16 April.
The first batch of 20,000 vaccine doses that will be used for the plan arrived from India on 15 February. The Covishield vaccines are manufactured by the India Serum Industry, the Oxford-AstraZeneca plant in India. The total purchase of the Covishield vaccines was 110,000 doses.
Staff at the Marcelino Velez and Moscoso Puello public hospitals in Greater Santo Domingo were also vaccinated. The Ministry of Public Health announced the vaccinating of frontline workers would continue on Wednesday in Bonao, La Vega, Santiago and Puerto Plata.
The Ministry of Public Health has announced the plan is to inoculate the 12,500 medical staff and frontline Covid-19 workers first. Next follow medical staff in general, an estimated 210,000. Also part of the first phase scheduled to receive the free vaccinations from February to April are those 60+ with comorbidities (diabetes, heart and kidney conditions, asthma, cancer, obesity), and those 60+ in general. The military and police and teachers are also included in the first phase that should be completed by April.
From May to July, the government has scheduled vaccinations for those 50 to 59+, first those with comorbidities and then those that are healthy.
From August to December, the government expects to inoculate all other 18+ Dominican citizens.
The government announced it is setting up an app, a calling center and website for citizens to make appointments. These would go live once the vaccines arrive for the vaccinations to the general public. The government announced it would be using the same facilities that are already in place for mass vaccination plans under the Expanded Vaccination Program (PAI) that has locations in hospitals nationwide and in specific vaccination points. Mobile units will also be used.
The Abinader administration has said the priority this year is to inoculate Dominican citizens that will receive a Covid-19 vaccination card.
The first batch of 20,000 doses was an emergency purchase after the batches contracted earlier from Oxford-AstraZeneca (UK), Pfizer-BioNTech and Covax Facility have delayed in arriving. The government has contracted for 21 million doses of Covid-19 vaccines.
Ministry of Public Health
Diario Libre
17 February 2021