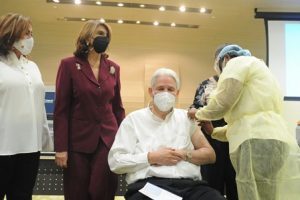 Dr. Jorge Marte, medical director at the Cedimat hospital, motivates all Dominicans to register to be vaccinated. He stressed the safety of the vaccines. He made the remarks as around 300 staff in the Covid-19 section of the hospital were vaccinated during the first phase of the National Vaccination Plan.
Dr. Marte was the first to receive the inoculation at the Santo Domingo hospital. The vaccinations are applied to the medical staff, lab employees and the cleaning staff at the hospital.
The government reports around 600 frontline Covid-19 health care workers were vaccinated on the second day. Staff at the Ramon de Lara, Marcelino Velez, Moscoso Puello were vaccinated. Reports are that staff at the private clinic, Cruz Jiminián in Santo Domingo will be vaccinated on Thursday, 18 February. The government has also announced vaccinating will be carried out next in Monseñor Nouel, Duarte, La Vega, Santiago and Puerto Plata provinces. The National Vaccination Plan calls for vaccinating first around 12,000 frontline staff in medical centers caring for Covid-19 patients.
Read more in Spanish:
N Digital
17 February 2021