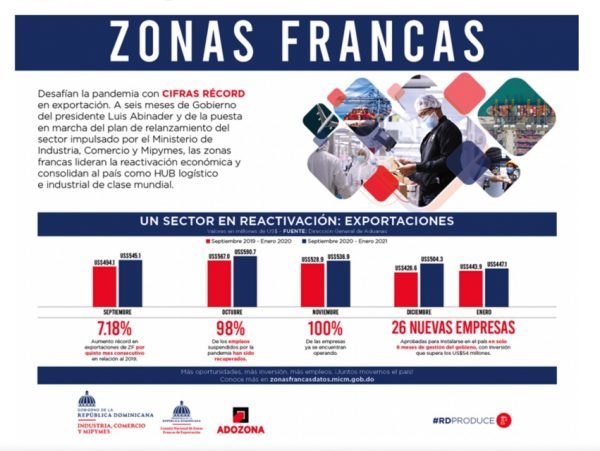 The Dominican Association of Free Zones (Adozona) reports that the free zone sector since September 2020 has surpassed the export total for the month in 2019. The industry reports an overall 7.18% increase in exports for the fifth consecutive month (from September to December), comparing 2019 to 2020/2021.
The export totals breakdown for September 2020-January 2021:
September 2019: US$494.1 million
September 2020: US$545.1 million
October 2019: US$567 million
October 2020: US$590.7 million
November 2019: US$528.9 million
November 2020: US$536.9 million
December 2019: US$426.6 million
December 2020: US$504.3 million
January 2020: US$443.9 million
January 2020: US$447.1 million
The statistics reveal that 100% of the free zone manufacturing industries are back to work, and 98% of the employees suspended due to the pandemic are also back at their jobs. Furthermore, 26 new manufacturing companies have begun operations under the free zone regime.
The upward trend should continue. Adozona president, Federico Dominguez Aristy, explained that the record export levels have helped the industry recover from the sharp fall in exports at the start of the global lockdown.
Dominguez Aristy called the records a challenge to develop the free zone sector in 2021. The sector continues to consolidate itself as the ideal formula to attract foreign investment, generate jobs, and further grow exports that produce hard currency for the country.
Read more in Spanish:
Adozona

Ministry of Industry & Commerce

22 February 2021