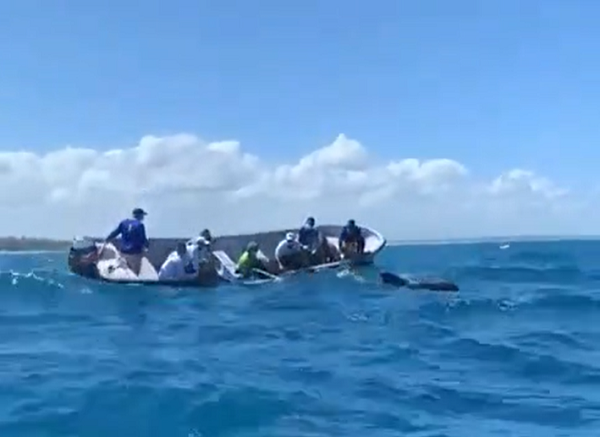 The National Aquarium rescued on Tuesday, 2 March 2021 a female whale injured by the Punta Cana coral reef. When the whale landed on the beach of a resort, it was dehydrated and could have died.
On its Instagram account, the National Aquarium shared details of the rescue. "Today, we received information about a Pilot Whale (Globicephala) of three meters in length, stranded on a beach in Bávaro. Immediately the protocol was initiated, with hydration by serum, feeding by orogastric tube, blood samples were processed and a supply of supportive medications provided. The whale responded well to all the maneuvers performed," they said.
An Aquarium Rescue Center team was lead by veterinarian Christian Alvarado. Collaborating were several Dolphin Discovery caretakers, the eastern regional Supervisor Yeralffi Arache. Ministry of Environment also offered support to the effort.
After it was fed and its condition improved, the Aquarium team transported the whale by net beyond the coral reef. The whale was released and swam freely to its natural habitat in the Atlantic Ocean. Hundreds of whales migrate to the Dominican Republic from northern seas from January to March for breeding and giving birth in the warmer Atlantic Ocean waters.
Read more in Spanish:
El Nacional
3 March 2021