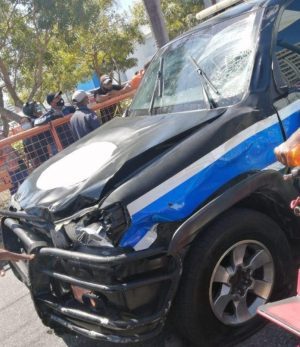 Thirty-four year old Aneydy Manuel Castillo García died when riding a motorcycle that collided with a SUV belonging to the escort of Vice President Raquel Peña. The Vice President caravan was returning to the Presidential Palace after she had attended an event to recognize outstanding women military at the Ministry of Defense.
47-year old Mekesedek Feliz Cuevas was also riding the motorcycle and suffered significant injuries on 4 March 2021 in the crash that took place at the busy intersection of 27 de Febrero and Winston Churchill avenues.
Roberto Valenzuela, spokesperson for the Transit and Land Transportation Agency (Digesett), said the fatal collision occurred at 11:20am. He explained a traffic agent had given way to the patrol car escorting Vice President Peña and the men riding on a motorcycle crossed in a north-south direction, colliding with the traveling west-east vehicle.
El Dia points out the regular practice of speeding of the motor car escorts of high government officials.
Read more in Spanish:
El Caribe
El Nuevo Diario
10 March 2021