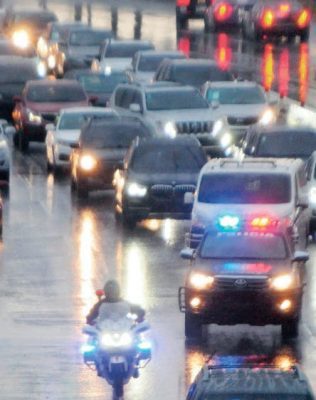 Thousands of Dominicans who had left cities for beach and mountain vacation areas made the return back home under heavy rains on Sunday afternoon and evening. Patrols ensured safety and kept the pace slow on the major roads to avoid accidents.
A preliminary report on the 2021 safety operation under the Center for Emergency Operations (COE) indicates 24 deaths are recorded in the scope of the operation. The COE is scheduled to issue its final report on the Easter holidays on Monday, 5 April 2021.
Overall, both COE director, Juan Manuel Mendez García and Tourism Minister David Collado had praise for the Dominican people's behavior over the Easter holidays. Collado said the government distributed more than 100,000 facial masks to those on the beaches.
The peak travel is from Easter Thursday through Easter Sunday. Hundreds are also returning on Monday.
Media reports revealed that the risks of Covid-19 were far from the minds of many who enjoyed getting away from it all with a day at crowded beaches nationwide. Parks in the cities were also full of people enjoying the outdoors.
The Weather Office says the rains will continue in at least 14 provinces.
Read more in Spanish:
Hoy
Hoy
Hoy
El Caribe
El Nuevo Diario
El Caribe
Onamet
5 April 2021