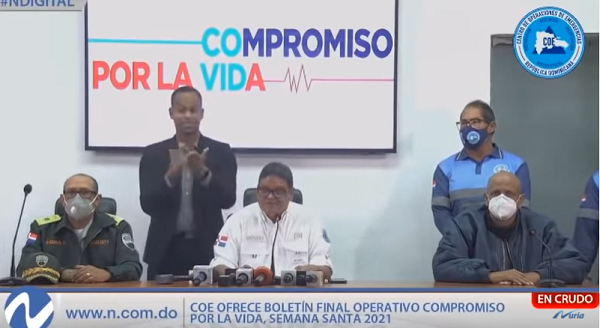 Juan Manuel Mendez, director of the Center for Emergency Operations gave the good news that despite the mobility of an estimated three million people on roads and highways for the Easter holidays, deaths were still the same as on an average day. On an average day, 6-8 deaths occur. Over the 4-day Easter holiday, 25 deaths occurred.
Likewise, deaths this day were 24% less than in 2019. In 2020, due to the start of the Covid-19 pandemic, there was no safety operation. The Dominican Republic at the time was in lockdown
In 2019, the COE reported 33 dead. Bulletin No. 4 on the 4-day Easter holiday long weekend reports 25 deaths for 2021. The deaths occurred in Santo Domingo (34.5%), Puerto Plata (7.3%), Santiago (6.7%) and Barahona (6.3%). 62.5% occurred between 2pm and 10pm.
The Center for Emergency Operations says there were 163 traffic accidents. 236 persons were affected. 133 motorcycles were involved in the crashes. This compares to 181 traffic accidents in 2019.
Mendez explained a force of 14,000 among 14,000 medical staff, volunteers and emergency crews participated in the Easter holiday safety program. He said 14,806 assistances were provided to citizens. This includes 8,688 road assistants and 6,026 medical assistances. 15 drownings were reported, with eight persons saved. 57 lost children were returned to their parents.
507 cases of alcohol toxicity were reported, compared to 760 in 2019.
Participating in the safety operation were: Ministry Administrative of the Presidency, Ministry of Public Health, Ministry of Tourism, Ministry of Public Works, Ministry of Defense, Digesett, Attorney General, Communications, Intrant, Presidency Social Plan, Civil Defense, Police, Tourism Police, 911, Omsa buses, ProConsumer Agency, Promese government pharmacy, the firemen and others.
Follow the story:
N Digital press conference
Hoy
Hoy
N Digital
N Digital
El Caribe
5 April 2021