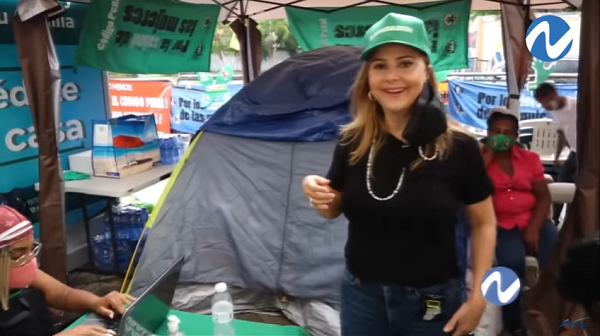 Those following the crusade of women groups in favor of instating the three grounds for abortion in the Dominican Republic should tune in to learn about the protestors camped out in front of the Presidential Palace. President Luis Abinader had spoken during his presidential campaign in favor of the three grounds. Today he is leaving the matter up to the Chamber of Deputies and has even suggested that a referendum decide the matter.
Congress is debating the incorporating of the three grounds for abortion in the Penal Code. Despite the Modern Revolutionary Party (PRM) backing the three grounds when the party was in the opposition, today the president of the Chamber of Deputies, Alfredo Pacheco (PRM-National District) has spearheaded efforts to keep the criminalization with the only exception being when the life of the mother is in danger and this is scientifically proven. The PRM is now majority in both houses of Congress.
Groups are campaigning that abortion in the Dominican Republic is a health issue, a human right and not a religious issue. Women groups point out that the criminalization affects the poor that cannot afford appropriate health care outside of the public system.
Nuria Piera toured the tent grounds for women groups that are camping out in front of the Presidential Palace to motivate President Luis Abinader to use his power to motivate PRM legislators to keep their word when they were opposition.
During the two terms of the previous Danilo Medina administration the bill did not pass after the then President vetoed it on two ocassions for not including the grounds. The Penal Code with the three grounds had passed in one of the Medina administration's but then was set back by the Constitutional Court.
Follow the story in Spanish:
Nuria
Hoy
5 April 2021