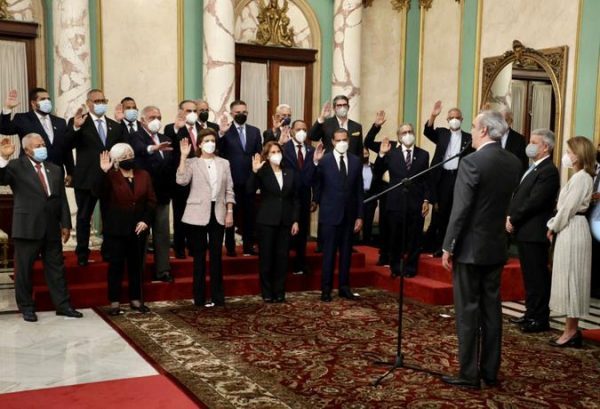 President Luis Abinader swore in the committee members that will present recommendations for the transformation and professionalization of the National Police. Decree 211-21 created the committee.
The announcement came after a police patrol violated all protocols and murdered a husband and wife that reportedly were confused with a gang that stole motorcycles.
The President says his government is prepared to carry out the reform cost what it costs.
"I also recognize that it is possible that in this process of transformation we may encounter obstacles and difficulties and furthermore, I want to warn you that the situation could get worse before it even begins to improve. We have a lot at stake and there are many interests at stake", said the head of state.
He said the working group has the mission to analyze the police structure, recommend actions for the true purge of the force and propose solutions within the legal and institutional framework most convenient for the police's transformation.
The President was accompanied by the Vice President, Raquel Peña; the Administrative Minister of the Presidency, José Ignacio Paliza; Minister of the Presidency, Lisandro Macarrulla; Minister of Interior and Police, Jesús Antonio Vásquez; Minister of Economy and Development, Miguel Ceara Hatton; the legal advisor of the Executive Branch, Antoliano Peralta and the director-general of the National Police, Edward Sánchez González.
The 21 members of the committee are: Servio Tulio Castaños, who chairs it; Radhamés García, Juan Ramírez, Bautista López García, Rosalía Sosa, Pedro Brache, Celso Juan Marranzini, Ricardo Nieves, José Luis Mendoza, Osvaldo Santana, Monsignor Francisco Ozoria and Fidel Lorenzo.
In addition, Mu-Kien Sang Ben, Héctor Guerrero Heredia, Carlos Manuel Estrella, Jorge Antonio López Hilario, Fausto Mejía, Francisco José Torres, Carolina Santana and Manuel María Mercedes.
Decree 211-21 establishes that the working group members will serve in an honorary capacity and will have a term of one year to achieve their objectives.
It also states that the working group is under the functional dependence of the Ministry of Interior and Police and that it is constituted to elaborate and recommend public policies focused on the legal, institutional, operational and functional reform of the National Police.
Read more in Spanish:
Presidencia https://presidencia.gob.do/noticias/abinader-afirma-que-llego-al-gobierno-para-realizar-cambio-radical-juramenta-grupo-para
7 April 2021