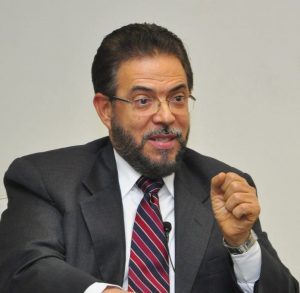 The president of Alianza País, Guillermo Moreno expressed his indignation at the recent killing by Police of two religious pastors in Villa Altagracia, San Cristóbal province in what the Interior & Police Minister described as a "confusion." Moreno described the National Police as "a rotten and corrupt body that is not worth reforming." He said it needs a comprehensive transformation.
Moreno denounced that the Police, the government body in charge of ensuring the security of citizens and the protection of property, "traditionally uses arbitrary methods and permanently commits abuses and outrages against the rights, integrity and life of the people."
"Indeed, the problem of the National Police, its arbitrary methods and its abuses did not begin with the current director Edward Sanchez, but what happened in Villa Altagracia shows that seven months after he has been in office, the National Police continues to be the same National Police as always," he said.
"The connections of officers with drug trafficking, the collection of tolls for micro-trafficking, continues," he denounced. He said the police receive monthly payments from banks and companies to provide privileged protection. He said many agents are involved in common crime, participate in robberies, kidnappings and assassination actions using their service weapons. Many of the officials receive large commissions in the purchases and contracts they make and even important positions are sold for millions of dollars," he added.
"President Luis Abinader is at the right point to add another patch to the National Police so that everything remains the same, or to change the roots of this rotten, corrupt, arbitrary body for a citizen police force, respectful of rights and liberties, professional and with the technical capacity to efficiently act in crime prevention", concluded the former presidential candidate, in his commentary on the Super 7 FM radio program.
Follow the story in Spanish:
Super7FM
El Nuevo Diario

7 April 2021