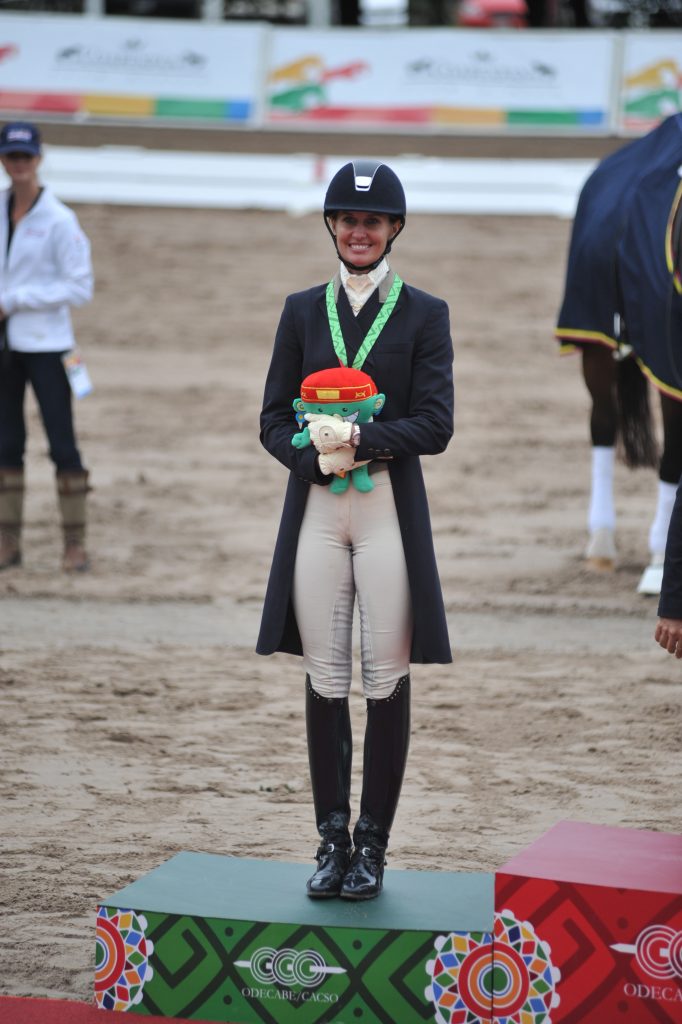 Dominican show jumper Yvonne Losos, riding the mare Aquamarijn, won the Adequan Global Dressage Festival (AGDF) in the FEI Grand Prix Freestyle CDI 4 in Wellington, Florida early this April 2021. She set a personal best score of 80.745%. Losos has qualified to compete in the Tokyo Olympic Games scheduled for this summer. The Dominican rider won first place in the CDI4 Freestyle, with a 74.196%. She set her best mark ever in the specialty.
"Right now, I think I'm still on cloud nine," said Losos after her performance. "The whole week has been incredible. As I mentioned yesterday, I am incredibly satisfied in knowing that the training is working, that I'm on and she's on."
As reported on the AGDF website, she remarked: "I'm thrilled where I ended up. I've reached all of my personal goals, and right now I'm exactly where I wanted to be going into this next part of training while setting up for the Olympics, so I'm going to go on vacation now! This season I made my freestyle more difficult, and there was a period of time once or twice after riding it that I have been tempted to back off and tone it down, but I knew that if I could ride it at home then I could ride it here. I just needed to figure out the amount of pressure where, when, and how, and today I figured it out. We nailed it, and it was such a cool feeling going down that center line, and I just wanted to cheer the whole way. It's really an amazing feeling when you're at that point with your equine partner; there is no other feeling in the world. It's pretty amazing."
Losos De Muñiz also credited the quality and atmosphere of the AGDF venue saying, "The atmosphere here [at AGDF] is amazing, and while I know that there are other incredible venues out there, I think that this venue here offers us so much in every aspect. I couldn't ask for a better place to compete throughout the winter." The event was sponsored by Douglass Eliman, at the Adequan Global Dressage Festival.
At the end of the competition Losos declared feeling good and focused on doing well at the Olympic Games in Tokyo this summer. This is the second time the rider qualifies for an Olympic Games. She is the only to ever represent the Dominican Republic in the equestrian competitions at the Olympic Games.
Losos is consistently ranked in the top 100 in the FEI World Dressage Rankings, the only Latin American rider to achieve this.
In September 2020, she received the prestigious Gold Medal Badge of Honor from the International Equestrian Federation (FEI), as a recognition of her multiple participations at Olympic Games, Continental Championships, World Cup Finals and Nations Cups, becoming the first dressage athlete from Latin America to receive this distinction. She is a member of the International Dressage Riders Club, as well as a USDF Gold, Silver and Bronze medalist.
Losos de Muñiz was born to Canadian parents of German and Polish descent, and was raised in Uganda and Kenya. She began riding as a teenager in Germany before moving to Canada. She lives in the Dominican Republic since 1990 with her Dominican-born husband; she acquired the Dominican nationality by marriage
Follow her online at:
GDF
Paso Galope
Wikipedia
Yvonne Losos
YouTube
27 April 2021