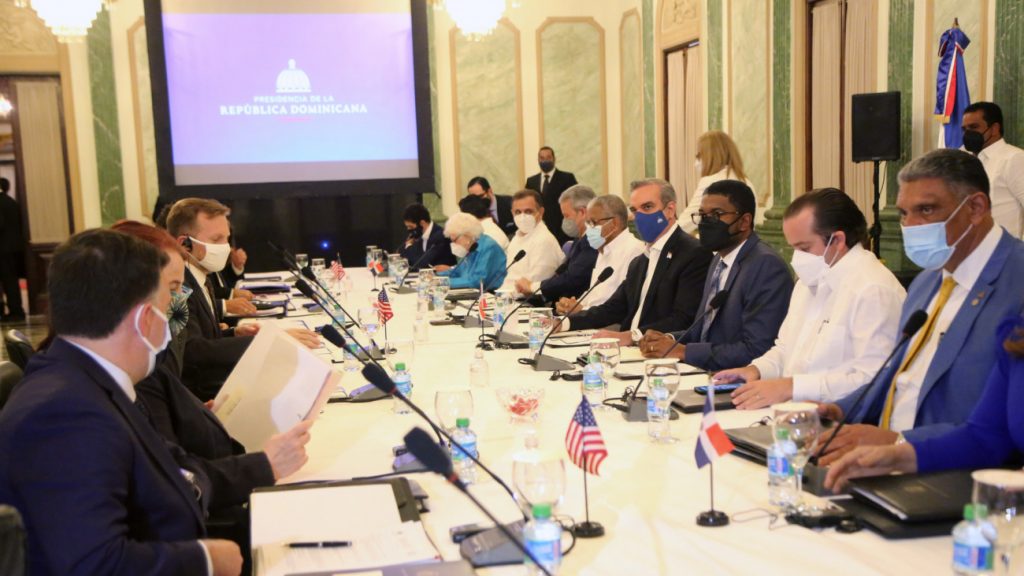 The Presidency reports it reached an agreement with the United States to back efforts for transparency and combat of corruption. The announcement comes when the Chamber of Deputies has passed a first reading of the Penal Code with Art. 303 establishes just two and three years of jail for those found guilty of administrative corruption. In the revision, the deputies reduced the penalty from a maximum of 10 years. The ruling Modern Revolutionary Party (PRM) is majority in both the Senate and Chamber of Deputies.
The US team led by acting ambassador Robert Thomas and President Luis Abinader for the Dominican Republic signed the agreement whereby the government will back the passing of the National Domain Extinction Bill and modifications to the Procurement Law. The domain extinction bill would enable the seizing of assets from those who cannot demonstrate these were legally obtained, and the amendments to the procurement law would increase the penalties for corruption in office. Both bills are in Congress. The ruling Modern Revolutionary Party (PRM) is a majority in both houses of Congress.
The 2010 Constitution orders the National Domain Extinction Bill. Over the past seven years, it has passed in the Senate, not so in the Chamber of Deputies.
The bill was reintroduced by Senator Antonio Taveras Guzman to the Senate on 12 April 2021 and sent to the Justice and Human Rights Committee.
The US commits to provide technical assistance, training for government officials and backing for the drafting of citizen security programs.
Read more in Spanish:
Presidency

Listin Diario
30 April 2021