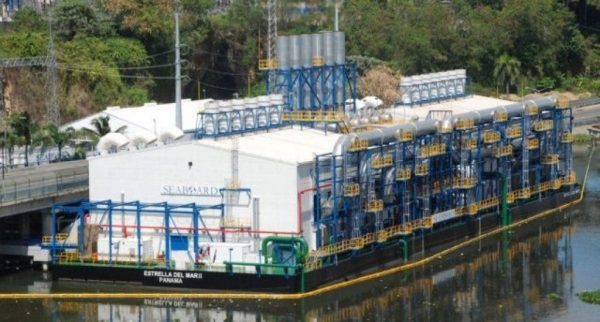 The Ministry of Environment rejected that Transcontinental Capital Corporation (Seaboard) simultaneously operate two power barges at the Ozama River. The company says it obtained all the permits to operate the present Estrella del Mar II and the soon to arrive Estrela del Mar III in the Ozama River in Santo Domingo during the past administration. The company had submitted a request for the simultaneous operation of both power plants on 30 December 2020.
With Resolution 0022-2021, the Ministry of Environment gives the company two years to carry out the actions to compensate the National Interconnected Electrical System to remove the Estrella del Mar II. Estrella del Mar III would replace the operation of Estrella del Mar II.
The Ministry of Environment explains that on 30 March 2020, when Angel Estevez was minister of environment, the Ministry of Environment issued Environmental License No.0003-01-Renewed that allowed in the same authorization the simultaneous operation of both barges on the western bank of the Ozama River, between the Juan Pablo Duarte and Ramón Matías Mella bridges, Muelle Timbeque located in the Villa Francisca sector of the National District with a generating capacity of 260MW.
Accepting a recommendation from the Superintendence of Electricity to grant it the definitive concession to operate both units, the company requested two separate licenses from the Ministry of the Environment, a request rejected by the current environmental authorities in the resolution issued on 30 April 2021.
In this sense, the company will only have a two-year non-renewable Environmental License to operate the "Estrella del Mar III" unit, which runs on natural gas and will replace the current Estrella del Mar II barge.
During this time, the company must comply with the Ministry of the Environment's requirements to reduce its environmental impact.
Read more in Spanish:
Ministry of Environment
El Caribe
3 May 2021