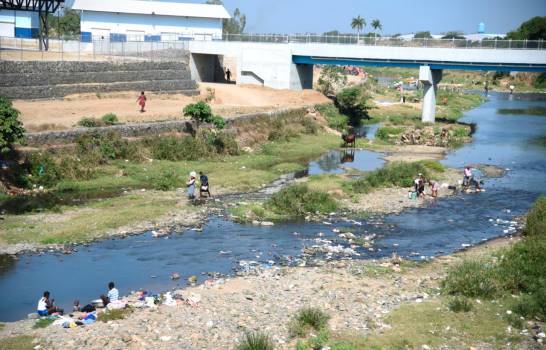 Authorities in the border province of Dajabón seek to stop the construction of a canal in Haiti that would divert the waters of the Masacre River. The river is the dividing line between Haiti and the Dominican Republic in the northwest corner of the republic. Over the years, deforestation in Haiti has caused major erosion and sedimentation of the important river.
An around 1 km long canal would connect to the Masacre River and channel the waters for agriculture in Haiti. The river is born in the Dominican Republic and runs for about eight kilometers between both countries.
The provincial governor, Rosalba Peña Rodriguez, has reported that a bi-national commission will be meeting to discuss the issue. The use of the river's water is covered by international law.
"At the last meeting it was agreed to form a commission of technicians from both countries to make a survey in the area and verify in what way the Masacre River can be used without affecting one of the two sides," the head of the Specialized Corps for Land Border Security (Cesfront), Brigadier General José Durán Infante, told Diario Libre.
"They have always wanted to do similar works, but as the river belongs to both countries, it must be agreed upon and carried out after a technical study endorsed by the authorities of the two countries," reiterated Durán.
The Masacre River is born in the Pico del Gallo mountain, in Loma de Cabrera, Dajabón province, and flows into the Bay of Manzanillo in Montecristi after passing through lands in Haiti. The action by Haiti would further reduce the flow of the waters of the river. The river is already affected by erosion caused by major deforestation in Haiti.
Read more:
Diario Libre
Diario Libre
3 May 2021