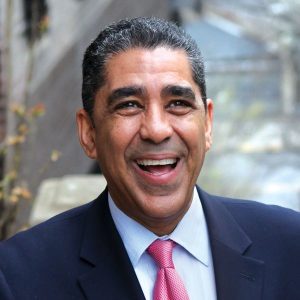 US Representative Adriano Espaillat (NY 13th Congressional District) has written to US Vice President Kamala Harris asking for her backing to prioritize Caribbean and Central American countries for future distribution of surplus Covid-19 vaccines. Espaillat is also chair of the Congressional Friends of the Dominican Republic Caucus.
Espaillat wrote to US Vice President Harris in her role overseeing diplomatic relations with allies in the region. In the letter, Espaillat acknowledges that with 53% of the adult population vaccinated with at least one dose of Pfizer, Moderna and Johnson & Johnson, the US is expected to have enough supply for the entire population by early summer. "Thus, we believe it is of upmost importance that the 60 million doses expected to be available be prioritized for vaccination distribution to our Central American and Caribbean allies," he writes.
He says the distribution of the vaccines to Caribbean and Central American countries is in the better interest of the US. "The high frequency of international travel and migration to and from these regions puts the US in a precarious position should they not be prioritized. Critically, the United State's prioritization of these regions in our global vaccination efforts will counterbalance the vaccine diplomacy efforts of China and Russia, which include disinformation campaigns designed to harm the US's interests in Latin America and the Caribbean," he writes.
Summing up, Espaillat states: "Your administration's leadership has put our nation on a path towards success, and it is our belief that by prioritizing our Caribbean and Central American neighbors, they too can be put on paths to success and recovery – and as a result, the health and safety of the American people can be preserved."
Espaillat signs the letter as chair of the Congressional Friends of the Dominican Republic Caucus. The letter is also signed by Albio Sires, chair of the Subcommittee on the Western Hemisphere, Civilian Security, Migration and International Economic Policy. Yvette D. Clarke, co-chair Congressional Caribbean Caucus and Raul Ruiz, MD.D., chair, Congressional Hispanic Caucus.
Read more:
Twitter
3 May 2021