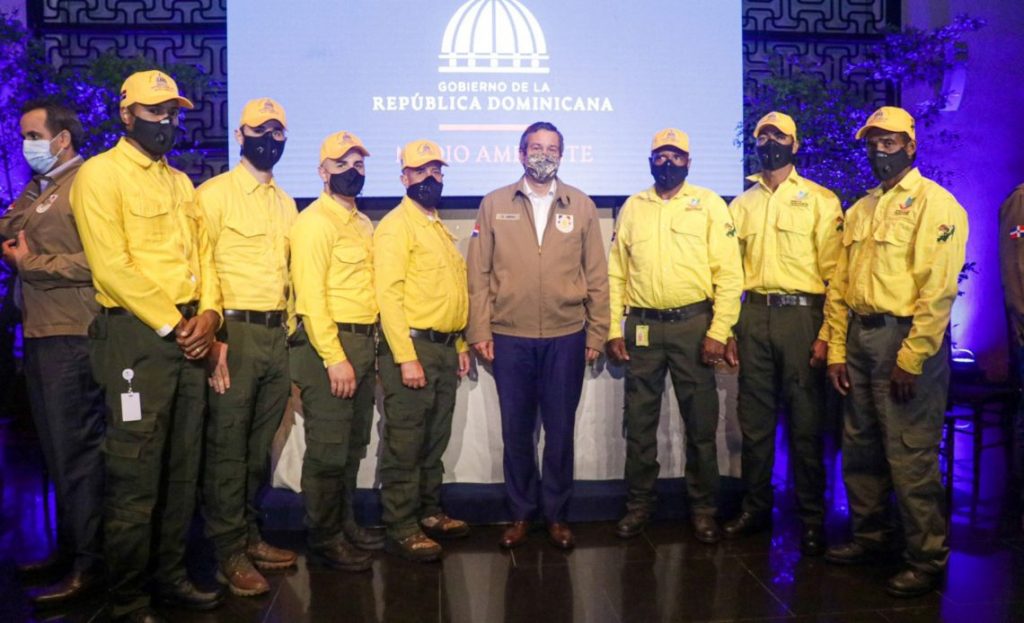 To commemorate the International Firefighters' Day (4 May), the Ministry of Environment met with a group of businessmen and announced a plan to support the important work that these men and women have been doing to preserve trees, especially in protected areas of the country.
Environment Minister Orlando Jorge Mera and businessman José Miguel Bonetti highlighted the work carried out by the firefighters to preserve the forests and mountainous areas.
"I have said it on previous occasions, but this is a special date on which I must reiterate that forest firefighters are heroes of the environment who deserve all our recognition and support," said Jorge Mera.
Donations are sought to better equip and fund the environmental firefighters.
In addition to Jorge Mera and representatives of the business sector, the activity was attended by several forest firefighters, including Geronimo Abreu, in charge of the National Fire Management Program, as well as the Deputy Ministers of Environment, Milagros De Camps, Fernanda De León and José Ramon Reyes.
"It is the first time in all the years I have belonged to this unit that a minister has shown so much interest in the work we do and in making efforts to improve our conditions," said Abreu.
The forest firefighters, who are made up of more than 300 men and women, have the mission of putting out the fires that occur every year and preventing the occurrence of these events that endanger the lives of thousands of species that coexist in the national ecosystem.
They also give talks to raise awareness about this problem and carry out preventive tours to help avoid these kinds of events.
In addition, they carry out surveys to identify the possible causes of these events and provide evidence for possible prosecution in case they are the result of criminal hands.
Among the main causes of these fires are the scarcity of rainfall, high temperatures and periods in which farmers prepare their land for planting using the slash/burn method.
The Ministry explains that the highest incidence of forest fires in the country is from February to April and from July to September, but throughout the year, these events mainly affect the country's protected areas.
In addition, sometimes intentional or accidental fires occur due to carelessness of hikers in areas of dense vegetation.
The greatest number of forest fires happen in the Central Mountain Range, the southern zone and the mountain range from San José de las Matas to Santiago Rodríguez. These fires occur more frequently in agricultural areas with some interaction with mountain and forest areas.
Read more in Spanish:
N Digital
5 May 2021