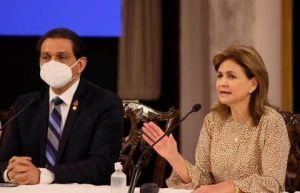 Vice President Raquel Peña and Minister of Public Health Daniel Rivera spoke up on Wednesday, 5 May in favor of the restart of classes. Vice President Peña said she has always been in favor of the restart of classes. Public Health Minister Daniel Rivera now says that schools are the safest place for children.
Dr. Rivera spoke during an interview with the Corripio Media Group. He highlighted that with the arrival of the latest 2 million doses of vaccines from China there is enough to start vaccinating those older than 18 years starting on Monday, 10 May 2021. He is optimistic the country could reach herd immunity by August 2021.
Education Minister Roberto Furcal has argued schools should only restart in municipalities where the positivity is 5% or less and has opposed the restart of classes in private schools. He has refused to inspect schools in Greater Santo Domingo to see if they meet conditions for reopening. Furcal has argued his decision to keep schools closed is backed by science. Parents and schools dispute the position saying the World Health Organization has ordered that classes be the last to close and the first to reopen.
Many private schools have reopened clandestinely. When the Ministry of Education sent these a letter telling them they would be penalized, the media covered teachers, parents and students meeting a city malls. Burger King announced its stores welcomed the students. The education community sought to call the nation's attention that almost everything is open, why not schools.
Read more in Spanish:
El Dia
El Dia
6 May 2021