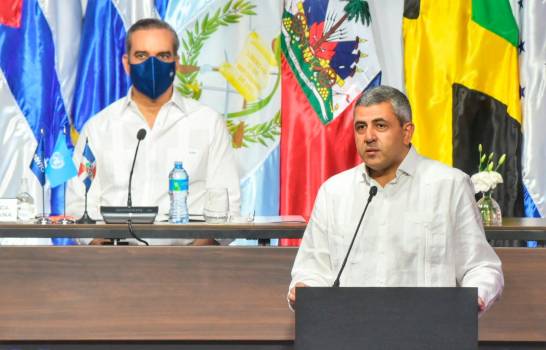 Punta Cana was the setting for the Tourism Ministers of the Americas Meeting from 6 to 9 May 2021 with the World Tourism Organization secretary-general. President Luis Abinader gave the welcome address. Abinader is the chair of his government's Tourism Cabinet.
President Abinader told the audience that "unity, determination, focus and a combined vision of the future of regional tourism is the way to face the challenges the Covid-19 pandemic has forced on the industry".
The Punta Cana meeting was organized by the World Tourism Organization (WTO) and it brought together ministers of tourism of the Americas to discuss the future of tourism in the Americas. Frank Rainieri, the president of the Punta Cana Group, who hosted the meeting, told reporters that the recovery was moving along faster than was expected, at a faster pace than in Europe or the United States. Most of the ministers tuned in via online channel.
During the event, Zurab Pololikashvili, the secretary-general of the World Tourism Organization, praised the way that the Dominican Republic has handled the Covid-19 pandemic. He noted that the local industry's prompt recovery reflects the country has been the best to do so of major tourist destinations around the world.
Those attending in persons representing the tourism departments of the Americas were: Morena Valdez, El Salvador; Miguel Torruco Marques, Mexico; David Collado, Dominican Republic; Gilson Machado Neto, Brazil; Carlos Mercado Santiago, Puerto Rico; Nicole Marderr, Honduras; Oscar Iroldi, Uruguay; Denisse Guillen, Panama; Mynor Arturo Cordón, Guatemala; Ali Padrón, Venezuela; Juan Carlos García Granada, Cuba; Myriam Jean, Haiti.
Read more in Spanish:
Diario Libre
Listin Diario
Diario Libre
El Nuevo Diario
Diario Libre
El Caribe
10 May 2021