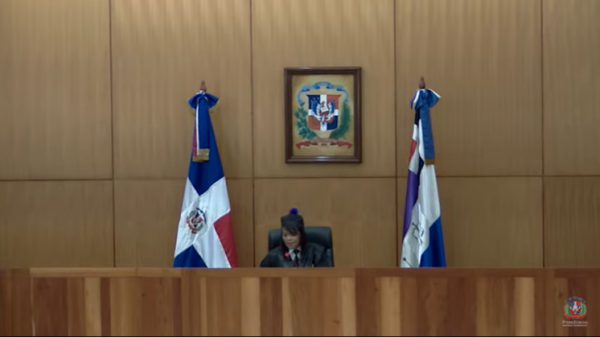 The judge of the Permanent Attention Office of the National District, Kenya Romero ordered that the accused in the Operation Coral corruption case serve 18 months preventive jail in the Najayo Men's and Najayo Women's jails. The accused are accused of heading a religious-military network that incurred in fraud to the state treasury and asset laundering.
According to the judge's ruling, Major General Adan Cáceres Silvestre, police colonel Rafael Núñez de Aza, police corporal Tanner Antonio Flete Guzmán, and Navy sergeant Alejandro José Montero Cruz, must serve their sentences in the Najayo Men's Correction and Rehabilitation Center (CCR Najayo). Evangelical pastor Rossy Guzman Sanchez is sent to jail at the Najayo Women's jail. In the past, military and police had served detention orders at specialized military and police facilities.
Meanwhile, army mayor Raul Alejandro Girón Jiménez, will serve house arrest under the custody of the Attorney General's Office. The location will be kept private. Likewise, the judge approved the request made by the Public Prosecutor's Office to declare the case complex.
During the hearing for pre-trial measures, the accused Girón Jiménez had explained the military and police's comforts and privileges in the military and police special detention centers.
The defendants are accused of creating a military and police network with the interest of plundering the state treasury, with corruption acts said to be for more than RD$3 billion.
The Anti-Corruption Prosecution Agency (Pepca) director, Wilson Camacho, assures that more people will be arrested in connection with Operation Coral.
The request for pre-trial custody establishes that to launder assets, the accused Adan Cáceres Silvestre and Rafael Núñez De Aza created a corporate framework made up by the companies Randa Universo Company EIRL (2012), CSNA Universo Empresarial (2013), Único Real State and Inversiones SRL (2015) and the Asociación Campesina Madre Tierra (2015), the latter under the façade of a non-profit organization, which received millions of pesos, through cash deposits, made by military subordinates of the charged. The money was then invested in purchases of real estate and vehicles."
10 May 2021