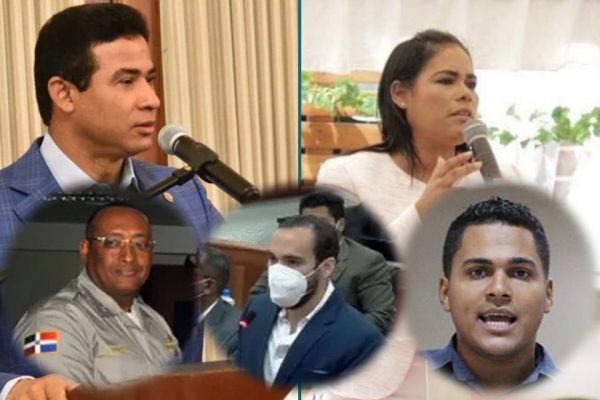 Five of the six accused in the Operation Coral military-police-religious corruption case were sent on the early morning of 12 May 2021 to the Najayo men and women jails. The six are accused of facilitating the detouring of more than RD$3 billion in public funds and of asset laundering, regarding primarily the Presidential Specialized Security Corps (Cusep) and the Touristic Specialized Security Corps (Cestur).
On Monday, 10 May 2021, Judge Kenya Romero had ordered Major General Adán Cáceres Silvestre, police colonel Rafael Núñez de Aza and Navy sergeant Alejandro José Montero Cruz men and Tanner Antonio Flete Guzmán to serve jail at the Najayo Correction and Rehabilitation Center – Men's. Likewise, pastor Rossy Guzmán, mother of Tanner Antonio Flete Guzmán, was sent to Najayo Correction and Rehabilitation Center – Women's.
A sixth person implicated in the case, Army Major Alejandro Girón Jiménez, former technology director at Cestur, was sent to house arrest at an undisclosed location. In court, Girón Jiménez declared himself guilty and provided to the prosecutors proof of the violations under investigation in Operation Coral.
Major General Adan Cáceres is accused of heading the network using his high-ranking position in government. He served as head of the Special Presidential Security Corps during the two four-year government terms of former President Danilo Medina.
Rafael Núñez de Aza's lawyer, Felix Portes, said he will appeal Judge Kenya Romero's decision. He had requested house arrest for his client. The Criminal Procedures Code establishes that lawyers have a period of 20 days to appeal the court's decision after being notified.
The military and police have not announced publicly whether these persons have been suspended from their positions as the case is investigated. Only the former director of the Touristic Specialized Security Corps (Cestur), Brigade General Juan Carlos Torres Robiou has announced he stepped aside from his position so the investigations could continue. Torres Robiou has not been arrested. Torres had served for seven years as director of Cestur and was the director of the entity at the time the irregularities under Operation Coral were revealed.
It is the first time that a major general is sent to Najayo jail. The military and police are usually sent to the military (El Polvorín) and police (Manoguayabo) special jails.
Read more in Spanish:
Hoy
El Nuevo Diario
Judge Kenya Romero pre-trial custody sentence
12 May 2021