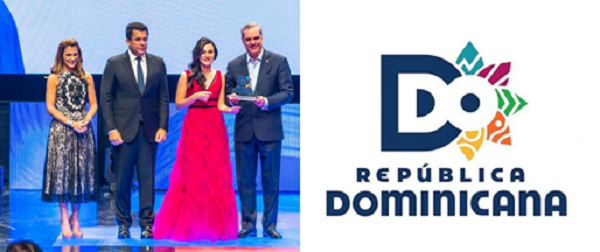 The public-private sector committee in charge of choosing the nation's country brand announced on the evening of 13 May 2021 that the general public voted for the proposal made by graphic art student Isabella Fernández. Fernández won with 53% of the votes. The new graphic highlights the "do," that is the extension assigned for Dominican internet pages
During the announcement, the Republic of the World slogan developed by the previous country brand team hired by the past government was not used. Instead the winning logo is linked to the theme – With Open Arms (Con los brazos abiertos).
Fernández received a grant of RD$3 million in equipment to develop graphic arts project and a scholarship to study art at a Florida arts school. The runner up received RD$1 million award to develop a graphic arts project and half a scholarship to study at a Florida arts school.
President Luis Abinader and Tourism Minister David Collado were present for the announcement of the new country brand logo and theme. Speaking during the event that was televised on prime time by Colorvisión, President Abinader said that the country brand is not only part of the country's international positioning strategy, but the new language that "we Dominicans are giving to daily life to communicate in a much more effective and direct way with the rest of the world. In other words, it is the global language of the Dominican Republic, it is our image, it is our essence."
While the country brand is all inclusive, the Ministry of Tourism has announced it will continue with its own campaign that has the theme, "The Dominican Republic Has it All". The Ministry of Tourism is expected to soon announce the winners of the tender for the country's tourism promotion abroad.
Read more in Spanish:
El Nuevo Diario

14 May 2021