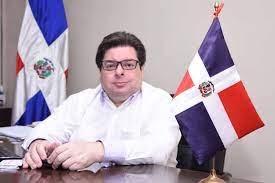 Dominican Ambassador to Russia Hans Dannenberg reports on the Dominican Republic's participation in the St. Petersburg International Economic Forum (SPIEF). Dannenberg sees the event as an opportunity to boost cooperation with Russian regions and strengthen contacts with the Eurasian region. He says there are opportunities for increased tourism and trade with Uzbekistan, Belarus and Kazakhstan, as reported in Sputnik News. He said contacts had been made with regions such as Vladimir, Ufa, the Moscow province, Krasnodar, Tatarstan and Murmansk.
The Dominican delegation is participating in the forum meeting on Russian vaccines organized for Latin American representations by the Russian National Committee for Economic Cooperation with Latin American Countries (CEPLA) and the St. Petersburg administration.
"We also want to see certain Central Asian countries that I cover from Moscow, such as Uzbekistan, which is interested in making direct flights to the Dominican Republic, Belarus, where tourism from that country is increasing every day, and Kazakhstan as well," the ambassador added, mentioning Armenia and Tajikistan among other Euroasian countries of interest.
Asked if his main objective at SPIEF is to take the first steps to establish direct flights between these countries, Dannenberg told Sputnik News that the forum offers a networking opportunity for many things, not only for flights, but for closer trade relations. He highlighted the close relationship of tourism and trade. He said air cargo is sent both ways on the flights that bring the tourists. "To dynamize trade, it is always good to try to establish air or seat routes through which our products can enter, or bring products from Russia and Central Asia to our country," he remarked.
Speaking at the St. Petersburg International Economic Forum (SPIEF), the diplomat recalled that before the pandemic the Dominican Republic exported US$26 million a year to Russia, while supplies in the first quarter of this year totaled US$8 million, mostly rum, tobacco, avocados, mangos and pineapples.
"It is as important for Russian products to come to our country as it is for our products to come to Russia. We also want there to be trade from Russia to the Dominican Republic and to the Latin American and Caribbean region. I understand that trade should be bilateral, not unilateral, so that it is in the interest of both," stressed Ambassador Dannenberg. Dannenberg understands that the quality of Russian products has improved both in household appliances, meat, dairy and pharmaceutical products.
Read more in Spanish:
Sputnik News

4 June 2021