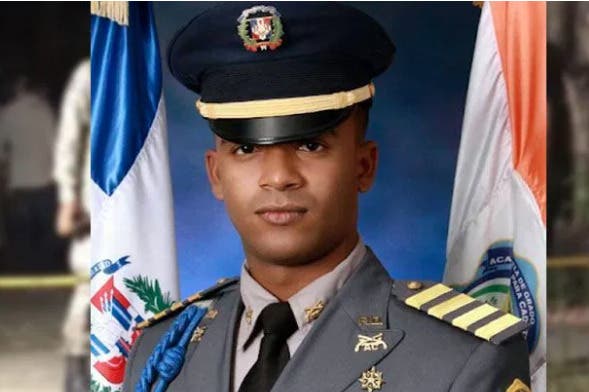 President Luis Abinader attended the wake of a Police officer who was killed on Tuesday, 1 June 2021 when trying to avoid a robbery in a fast food business in Santiago where he had stopped for a bite with other off-duty officers. President Abinader sought to personally express his solidarity to the relatives of first lieutenant Jean Carlos Ramírez Carvajal at the Gresefu Funeral Home on Las Americas Avenue in Santo Domingo. The officer was married and lived in Sabana Perdida in Santo Domingo and was visiting in Santiago.
"The government will always be at the side of the men and women who dedicate their lives to fight crime," said Abinader.
Preliminary reports state that the 32-year old police officer Ramirez Carvajal died after receiving several gunshot wounds in the El Ejido sector of Santiago city, when he intervened to defend the owner of the fast food business, Oché a tu gusto. The assailants escaped on a motorcycle as soon as they committed the crime.
Ramírez Carvajal was assigned to the Central Investigation Agency (Dicrim) in Santo Domingo .
According to a preliminary report of the incident, Ramirez Carvajal was in the company of other officers that have not been named. He was in civilian clothes at the time of his death.
The Police report indicates that two men had approached their victim and stripped the person of valuables when Ramírez Carvajal took action.
Read more in Spanish:
Hoy

El Nacional
El Caribe
4 June 2021