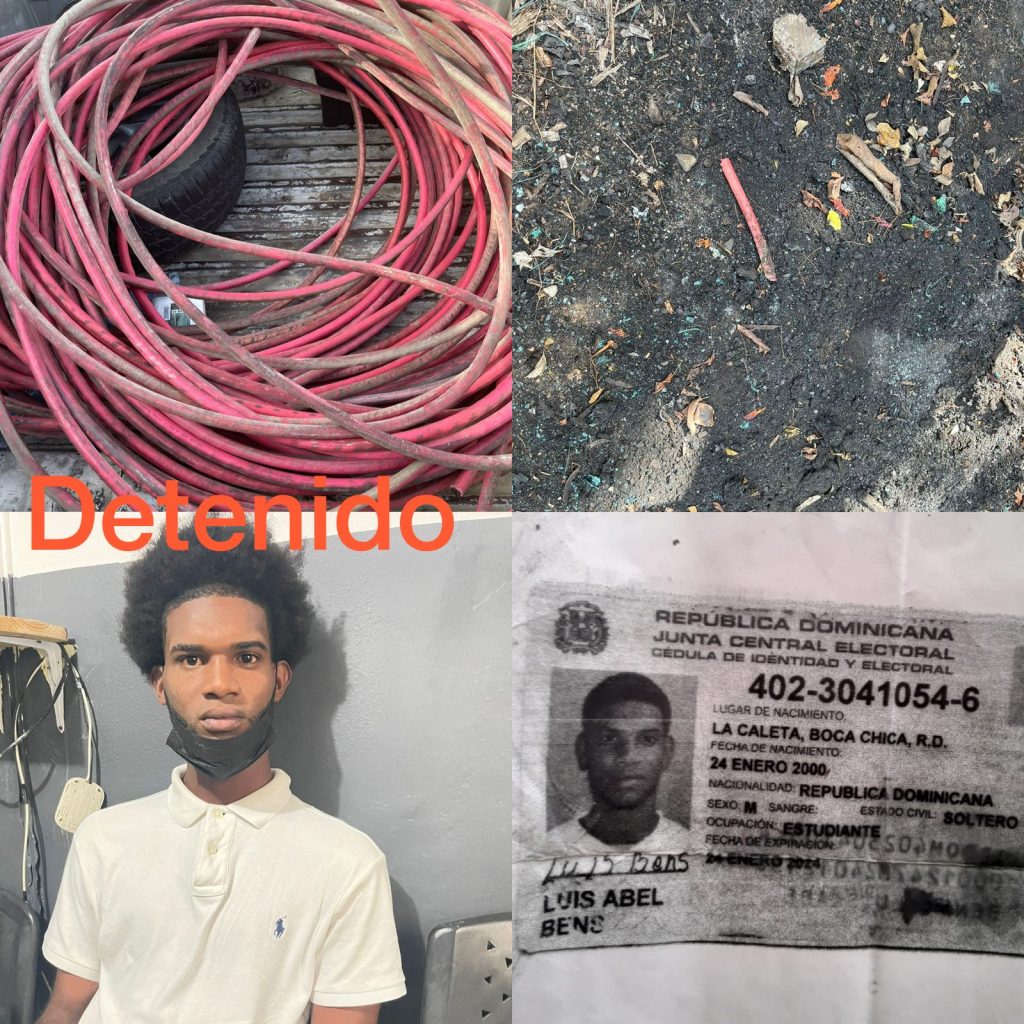 The National Police says it was not a fire, nor a terrorist attack on the Dominican government, nor was it directed at the airport itself. It was a simple robbery to resell the copper wiring. The National Police arrested a 21-year-old, along with his brother, and is accusing them of cutting the electricity cables that feed the runway lights at the Las Americas International Airport (AILA), delaying several flights and detouring others to other airports.
The two brothers, who live near the airport, reportedly gained entry by using a little-known path that borders the airport to the east between the Las Americas International Airport and the Multimodal Caucedo Port. The Police accuses them of stealing some 800 feet of costly and heavy electrical cable, along with some transformers and connectors from the head of runway 35, thus forcing the suspension of all flights on Sunday, 23 May 2021 and losses estimated at RD$30 million.
Judge Bernardo Coplin García ordered that 21-year old Luis Abel Bens Álvarez (alias Chiricui) await the trial at the San Pedro de Macoris Jail. During the hearing, Bens Alvarez reportedly admitted to the act. His brother Anderson Torres (Cochin) and a person known as Esmailyn or Esmerlyn are sought by the authorities. The accused live in Boca Chica and are known as "buzos" or garbage scavengers. Bens Alvarez reportedly turned himself in to the Police station in Boca Chica.
Muckraking journalist Altagracia Salazar said in her morning talk show on 7 June 2021 that the police version is "not credible." She questions why the chief of the Airport Security Corps (CESAC) had left his post early that evening without justification, and no second in command was left in charge. Earlier media reports had indicated that the cables were cut, but not removed.
Monika Infante, general manager of the airport, has stated that the government body CESAC is responsible for airport security. In an interview with Diario Libre, she explained the Vinci airport operators invest in security equipment and systems, but the security force is exclusively responsibility of the CESAC.
Read more in Spanish:
Diario Libre
Altagracia Salazar sin Maquillaje

7 June 2021