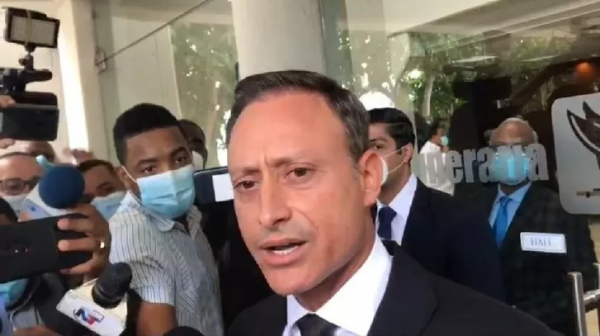 The commercial representative of the Brazilian construction firm, Odebrecht, Angel Rondón is on a media tour as he seeks to present his side in the part one of the Odebrecht bribes case in court. Rondón explains he seeks a deal with the new team of Dominican prosecutors. Rondón has been critical on how former chief prosecutor, Jean Alain Rodríguez carried the prosecution, remarking that the case is not based on evidence.
Former attorney general Jean Alain Rodríguez has reposted, taking advantage of a comment Rondón made during an interview on 26 May 2021 with Fausto Rosario for AcentoTV. Rodriguez says his life is threatened by defendants Angel Rondón and former minister of Public Works, Victor Diaz Rua.
When expressing his frustration for the way the prosecution head by Rodríguez prepared the case and when asked if he hated Jean Alain Rodríguez, Rondón had stated on the Acento TV program: "The only thing I would not due is kill him ever because I do not have a criminal instinct," said Rondón in the interview. He added then that Rodríguez may soon see himself in his same shoes of going through a judicial process.
Yet, Jean Alain Rodríguez now says his life is threatened in a letter sent to President Luis Abinader on Monday, 7 June 2021. In the letter, Rodríguez explains he writes directly to the President because today prosecutor Miriam Germán Brito has distanced herself from the Odebrecht case. When president of the Penal Chamber of the Supreme Court of Justice, Germán Brito had criticized the way Rodriguez was preparing the Odebrecht case. Rodríguez later maneuvered to have then judge Germán Brito removed from the Supreme Court. Germán Brito would then be named attorney general by President Luis Abinader.
In the letter sent to President Abinader, the former prosecutor writes:
"This act is cause for concern, since this is an individual who has been accused of scandalous criminal acts that include embezzlement in the Renove Plan, fraud at Baninter, and corruption in the Odebrecht case, for which the US authorities have formally expressed a high interest, placing him on a list of criminals sanctioned under the Global Magnitsky Act."
Responding to journalist inquiries about the letter Jean Alain Rodriguez sent to the President, Rondón stated that he does not want to see him dead, rather he wants to see him in court.
The US Department of Treasury on 21 December 2017 announced that it was penalizing Angel Rondon Rijo with the Global Magnitsky Human Rights Accountability Act. It describes Rondon as:
"Angel Rondon Rijo (Rondon) is a politically connected businessman and lobbyist in the Dominican Republic who funneled money from Odebrecht, a Brazilian construction company, to Dominican officials, who in turn awarded Odebrecht projects to build highways, dams, and other projects. According to the U.S. Department of Justice, Odebrecht is a Brazil-based global construction conglomerate that has pled guilty to charges of conspiracy to violate the anti-bribery provisions of the Foreign Corrupt Practices Act, and agreed to a criminal fine of $4.5 billion. In 2017, Rondon was arrested by Dominican authorities and charged with corruption for the bribes paid by Odebrecht."
Read more in Spanish:
Acento TV interview
Hoy
Hoy
Hoy
Hoy
Hoy
Somos Pueblo
Somos Pueblo
El Nuevo Diario
US Treasury

9 June 2021