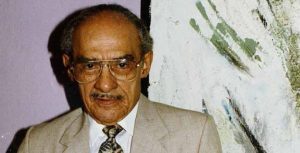 President Luis Abinader decorated late national poet Pedro Mir. Mir is best known as the author of "Hay un pais en el mundo," (There is a Country in the World). Legal advisor to the President, Antoliano Peralta Romero, says that Mir deserves the "highest recognition" granted by the Executive Branch for his "valuable contributions" to poetry and Dominican culture.
Mir posthumously received the Heraldic Order of Christopher Columbus in the Grade of Grand Officer.
Peralta Romero said the award seeks to ensure the preservation and dissemination of Mir's work to generations of Dominicans. He points out that Mir was also "a consecrated storyteller, essayist and university professor who became one of the major references of Dominican literature in the 20th Century."
Mir was born in San Pedro de Macorís in 1913 to a Cuban father and a Puerto Rican mother of Spanish origin. He died in 2000.
During the 40s and 50s, his poetry was characterized by its social slant. He was awarded the National Literature Prize and in 1984 he was declared National Poet by the Dominican Congress.
In addition to "Hay un país en el mundo" (1949), his most famous poem, Mir is the author of "Contracanto a Walt Whitman" (1952).
Among his novels and essays are "Cuando amaban las tierras comuneras" (1978); "El gran incendio: los balbuceos americanos del capitalismo mundial" (1970), and "Noción de período en la historia dominicana" (1983), in three volumes.
Peralta Romero said that the ceremony to present the award is postponed due to the new measures taken to reduce the spread of Covid.
Read more in Spanish:
Plan Lea – Listin Diario Hay un pais en el mundo
El Nuevo Diario
9 June 2021