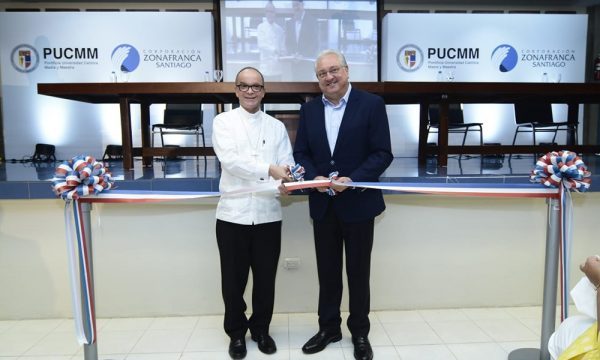 The Pontificia Universidad Católica Madre y Maestra (PUCMM) and the Santiago Free Zone Corporation (CZFS) inaugurated three laboratories for the use of the students of the Santiago university's Sciences and Engineering School. PUCMM rector, Monsignor Ramón Alfredo de la Cruz Baldera received the lab from the president of the Santiago Free Zone Corporation, Miguel Lama. The CZFS donated RD$10,122,000 for the construction and equipping of the labs that are located at the Santiago university's campus.
The labs are the Ergonomics and Work Study Lab; Simulation Lab and Quantitative Methods Lab.
The initiative is part of the inter-institutional agreement "Academy-Business Linkages," that seeks to train engineering professionals in vital competencies for the current labor market.
The president of the CZFS, Miguel A. Lama said at the inauguration that the lab is also servicing the companies located in the Victor Espaillat Mera Industrial Park (PIVEM) and other industries in Santiago.
The Ergonomics and Work Study Laboratory, the first of its kind in the country, enables students to create and study work scenarios that promote the effectiveness and safety of personnel. Students will learn how to design and evaluate work stations; study the effect on people's productivity when faced with the variation of parameters such as lighting, temperature, noise, and the relationship between the man-machine system. With the Simulation and Quantitative Methods labs, students will learn how to create computational models.
Read more in Spanish:
El Caribe
9 June 2021