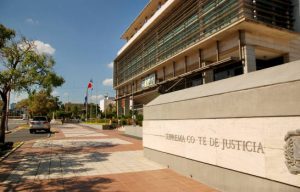 The Supreme Court of Justice president, Luis Henry Molina, says that the ongoing digitalizing of the judicial system is eliminating the years-long backlog in cases. "Soon we will not have judicial arrears in the Dominican Republic," said Molina in an interview with El Caribe-CDN media group.
Molina said the arrears in justice are a cancer of the system. "A justice that is in arrears is a late justice, and late justice is not justice," he said.
Molina says the efforts are already paying off. He mentioned that in the judicial districts of Barahona, San Juan de la Maguana and Puerto Plata, and soon in Montecristi, there are no longer delays.
He said the plans are to complete the digitalization of all files to 2019 in the second half of this year. With this, he says, "we would not be technically in arrears."
"The pandemic gave a possibility that we could digitalize everything that enters the Judicial Branch, we can quantify everything that is in the Judicial Branch, but in addition, it allows everything that leaves the Judicial Branch to have an electronic signature, including resolutions, sentences, orders," explained Molina during the interview with the directors of El Caribe and CDN, Nelson Rodríguez and Alba Nely Familia, respectively. Also participating were El Caribe's executive editor, Hector Marte and journalist Julissa Céspedes.
Molina explained several of the resons for the delays. "Many times the lack of notification causes delays, because the persons involved in the process are not located, the lack of bringing the persons deprived of liberty to the trial causes delays, all of this that has to be blocked is being systematically reduced, I cannot say that with a magic wand it has been solved, but it has been significantly reduced," the judge said.
The poor distribution of judges in the country is another issue that can cause delays, Molina added.
Another issue that has been changing in the judiciary is the digitalization of processes. The pandemic caused the virtualization plans to be moved forward. Molina reported that currently 80% of trials are virtual and that most lawyers prefer this option.
He specified that the virtual trials were planned to start being implemented within five years, but given the situation, they were quickly forced to implement them and began to create the conditions in the courts for those who do not have access to the Internet.
Molina says there still needs to be a generalized change of mentality. He said that the opposition that has arisen is normal in the face of the new circumstances. He says the pandemic has changed the way things get done.
"Digitization is not a technological issue, it is also an issue of change of mentality, of work processes, that has been generating cases", he emphasized.
Read more in Spanish:
El Caribe
10 June 2021