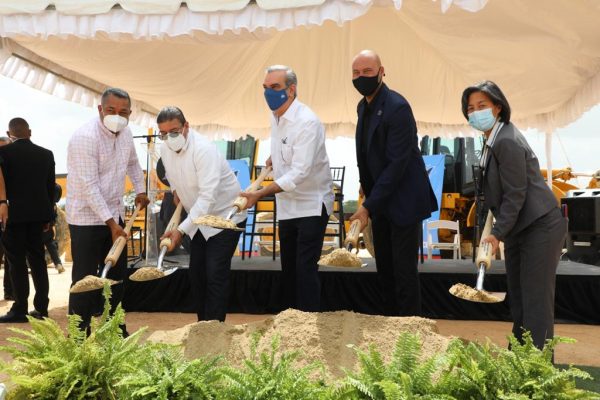 President Luis Abinader was at the groundbreaking ceremony for the construction of the new Miami Marlins Baseball Education and Training Center in Boca Chica on Wednesday, 16 June 2021. The Marlins are investing US$12.5 million in the new academy for training prospects to be signed for play in Major League Baseball.
President Abinader was received by Miami Marlins president, Cooperstown Hall of Fame member Derek Jeter and the general manager of the Marlins, Kim Ng. He was accompanied by Sports Minister Francisco José Camacho and the Mayor of Boca Chica, Fermín Brito. Also attending was Deputy Minister of the Presidency Alberto Rodríguez and the National Professional Baseball Commissioner, Junior Noboa.
The Marlins president thanked President Abinader for his support. He explained that one of the first things he did when he joined the organization was to travel to the country to tour the academies operating here to see what the new complex should be like. He said that beyond what can be achieved from the sports point of view within the academy, one of the main goals is to promote the education of the players.
The academy is located at Kilometer 2 of the Jubey Highway, Boca Chica.
The training center will have four stadiums, a gym, study halls, administrative offices and lodging for 114 people.
"This will be one of the best academies. It will be symbolic of the Marlins' commitment to baseball here in the Dominican Republic," said Kim Ng, the club's general manager.
Read more in Spanish:
El Nuevo Diario
Acento

Diario Libre
16 June 2021