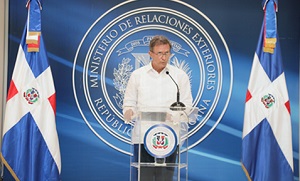 The Ministry of Foreign Relations issued a note calling for the international community to contribute as much as possible to the creation of a favorable environment for internal dialogue in Haiti. The note stresses this is necessary to overcome the current crisis.
The Ministry of Foreign Affairs (Mirex) expresses the Dominican government's concern over the Haitian crisis and says the situation has gone beyond the constitutional framework after the assassination of President Jovenel Moïse. The Dominican government backs the voices that call for a great national dialogue to provide answers to this deep political crisis and the spiraling of violence in Haiti.
The Dominican government stresses that "there is no Dominican solution to the Haitian situation". The Ministry of Foreign Relations says "it adheres to the principle of non-intervention in the internal affairs of other states and respect for the Inter-American Democratic Charter, especially with regard to the participation of citizens in decisions concerning their own future".
The Ministry of Foreign Relations says that this is a transcendental moment for the Haitian nation since the solution that the Haitian political, social and business leadership manages to offer its people at this juncture, will determine whether the country will take a step forward towards a stable and democratic development.
In the statement, the Mirex declares once again the Dominican government's commitment to promote a policy of good neighborliness and mutual cooperation with Haiti, with the understanding that peace and stability depend on democracy, solid human development and the firm protection of fundamental rights throughout Hispaniola island.
Read more in Spanish:
Mirex
19 July 2021