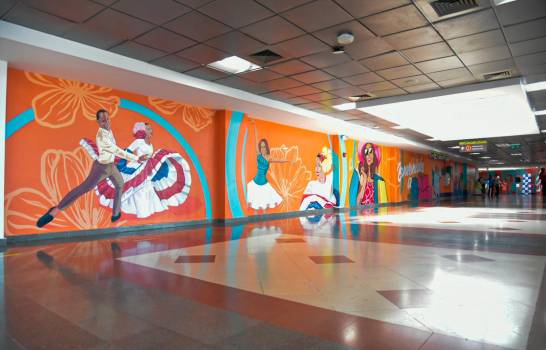 Las Americas International inaugurated on 20 July 2021 the mural exhibition, "The Colors of Santo Domingo" by 13 Dominican visual artists. The murals highlight iconic elements of Santo Domingo city as part of the first impression visitors get when landing here.
The murals are located in the arrivals hall of the airport. They were painted by established and emerging visual artists part of the Transitando arts collective. They provide first insights to visitors and motivate these to take part in the cultural heritage, gastronomy, nightlife and social life of the capital city.
"This exhibition is part of our continuous interest in improving the experience of all those who enter our country through the air terminals managed by us. It complements the numerous efforts that we at Aerodom and Vinci Airports are making to meet the growing expectations of all our users," said Mónika Infante Henríquez, general director of Aerodom.
Cromcin Domínguez, general coordinator of the art collective Transitando, highlighted the murals seek to encourage visitors to discover what the city has to offer. The new murals were painted by artists Wanda Cortorreal, Juan Miguel Ruiz, Jefrey Guzmán, Ariel Santil, Pedro Veras, Karina Croussett, Maurisio Delgado, Feliciano Delgado, Willy Gomez, Norkellys Acosta, Israel Marte, Israel Feliz and Edgar Valerio. Cromcin Domínguez and Héctor Farías were the coordinators for the art collective.
Read more in Spanish:
Diario Libre
20 July 2021