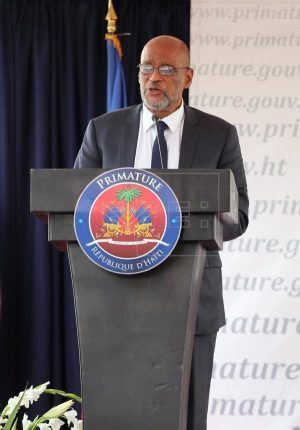 Haiti has a new acting prime minister, Dr. Ariel Henry. A neurosurgeon, 71-year old Dr. Henry was sworn in on 20 July 2021. He had been chosen for the position on 5 July by the late President Jovenel Moise. He is the seventh prime minister appointed by Moise over more than three years in government. Dr. Henry replaces Claude Joseph, who will continue as foreign relations minister.
Dr. Henry takes charge when Haiti is sliding deeper into the present health, economic, political and social crisis. The country is under siege by gangs, and kidnapping is said to be the lead industry.
Upon taking office, Dr. Henry promised to promote a sincere dialogue with the opposition and sectors of civil society to find solutions to the crisis unleashed by the murder of President Jovenel Moise. He announced meetings to find an inclusive agreement. He promised to reestablish order and organize elections.
"With great determination, I have accepted this mission. The country is going through a critical situation. In this situation, there is one thing that everyone agrees on: the solution to the crisis must be found by Haitians," he said.
He called for "exemplary" punishment for those involved in the assassination of President Jovenel Moise.
Dr. Henry had served in several positions in the past government of President Michel Martelly and was the coordinator of the country's response to cholera imported by United Nations Minustah peace-keeping forces in 2016.
Haiti Libre reports Dr. Henry had served as the minister of social affairs and labor from September 2015 to March 2016, was minister of interior from January 2015 to September 2015, and served as chief of staff to the Minister of Public Health from June 2008 to October 2011.
Dr. Henry is a graduate of France's University of Montpellier school of medicine with studies at Boston University and a masters in public health at Loma Linda University in California, USA.
Likewise, the funeral of murdered President Jovenel Moise will take place on 23 July. The government declared Thursday, 22 July and Friday, 23 July 2021 as public holidays. First Lady Martine Moise returned from Miami for the funeral. The Dominican government announced the binational market in Dajabón, in northern Dominican Republic on the border with Haiti, will be closed on Friday, 23 July, the funeral day.
Read more:
Haiti Libre
El Caribe
Listin Diario
N Digital
21 July 2021